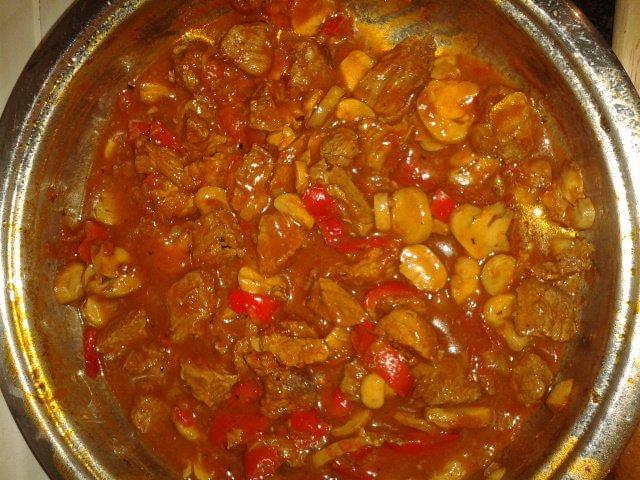 Original German Goulash recipe or paprika beef stew with red pepper and mushrooms (in German Gulasch or Rindsgulasch). It is the best of all German Beef Goulash recipes because it comes directly from the kitchen of my sister-in-law from Germany.
Ingredients German Goulash (serves 4)
500 g beef stew
2 large onions
2 red pepper
250 g mushrooms white
2 tbsp olive oil
Tomato paste, salt, pepper, mild red paprika
Cooking Instructions German Goulash
- Heat oil in a skillet; fry meat briskly bit by bit (don't use it all at once); when all meat is browned take off the skillet.
- Chop onions finely, saute them until transparent in the same skillet.
- Cut red pepper in fine stripes, add to onions and saute them.
- Add meat, spice with salt, pepper and mild red paprika powder.
- Add 2-3 tbsp tomato past, fill up with some water (1/2 cup or less; should not be too thin).
- Reduce heat and let it simmer for 1.5 - 2 hours until meat is soft.
- 10 minutes before the end of cooking time add sliced mushrooms.
Serve with white or brown rice.
FaceBook Comments
comments