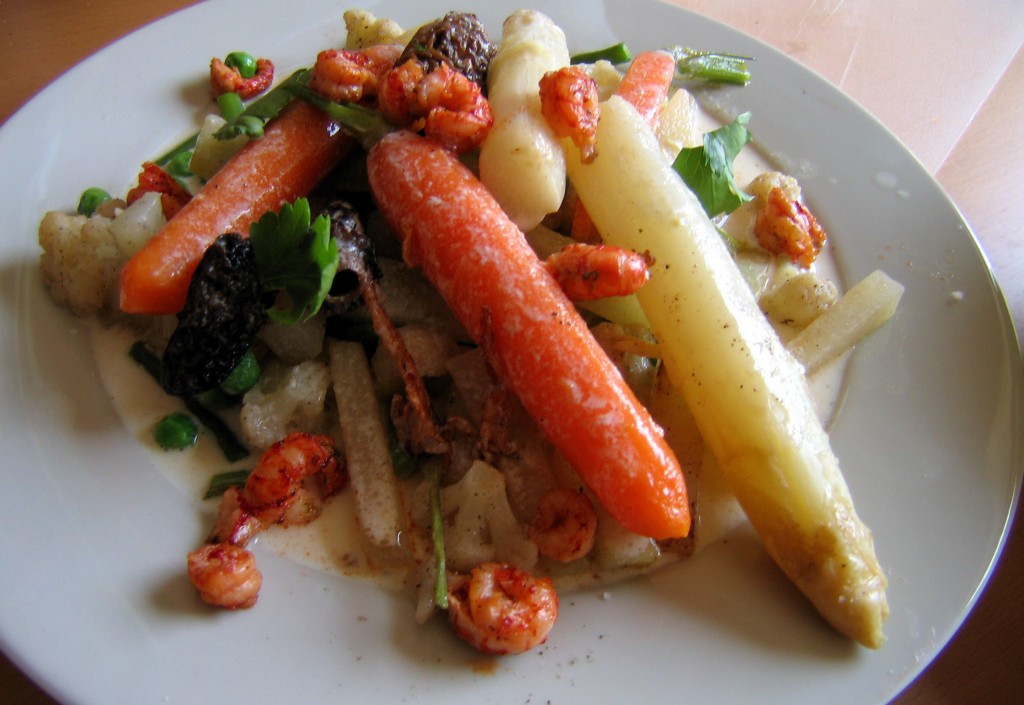 German Vegetable recipes like Leipziger Allerlei are great side dishes. This German recipe is an original recipe from the former DDR city Leipzig that you will love.
Leipziger Allerlei is a vegetable recipe that is served as a side dish. It contains of fresh peas, carrots, asparagus, mushrooms or morels. You also can add green beans, cauliflower, kohlrabi and if you want to make the classic recipe, add river crab and crab butter. If you can get the crab ingredients you would add them at the end with the sauce. Enjoy the German vegetable recipes and Happy Cooking!
Ingredients Leipziger Allerlei
1 small cauliflower
250 g asparagus
250 g green beans
250 g peas (fresh or frozen)
250 g carrots (small ones)
250 g mushrooms
50 g butter
30 g flour
½ liter vegetable broth (instant organic cubes) or the cooking water from the vegetables
3 tbsp heavy cream, 25 g butter
salt, nutmeg, sugar, white pepper (optional: parsley, chervil)
Cooking Instructions Leipziger Allerlei
- Wash the vegetable.
- Break cauliflower apart.
- Peel asparagus and cut in 2 inches pieces.
- Clean beans and cut them in smaller pieces.
- Peel fresh peas; cut carrots in smaller pieces. slice mushrooms.
- Boil every vegetable separate in salt water until the vegetable is a bit soft (al dente, needs to be a bit crunchy)
- Drain the boiled vegetable and keep it warm.
- Melt butter and add flour, stir continuously ( no clumps), then add vegetable broth and bring it too a boil. Add heavy cream and butter, spice with salt, nutmeg, white pepper and a bit of sugar.
- Now mix the vegetable with the sauce and serve it in a warm bowl or on a platter. Sprinkle with chopped parsley and chervil.
Serve it with veal or pork chops, Wiener Schnitzel or veal schnitzel.