Christmas is BIG in Germany because it is celebrated in a special and unique way. A way that is different from all other countries in the world. Germany is true to its traditions, and this is reflecting in its culture, the crafts and the food. Of course every nation has its own traditions for the holidays but the ones in Germany are based on history that goes way back for centuries.
When it comes to these delicious Christmas dishes, cookies, chocolates, pastries, drinks and cakes, Germany is the Number one.
The holidays are right now in front of the door which inspired me to write about the
10 Best German Cakes for the Holidays
These cakes had been very popular on the mybestgermanrecipes.com website that I founded in 2010. Next year we are celebrating 10 years of authentic German food recipes!
So what are the best five german Christmas cakes? Here they are:
1. German Black Forest Cake
The queen of all cakes is the Black Forest Cake, and it is the most popular cake internationally. There are many variations but the original comes from the Black Forest and contains the regional Kirschschnaps (Kirschwasser).
---
2. German Poppyseed Strudel
The German Poppyseed Strudel is a traditional cake that originated hundreds of years ago in the Bohemian and Austrian cuisine. It has become one of the most popular cakes here on Mybestgermanrecipes.com.

---
3. German Classic Cheese Cake
There's not much to say about this cake. It's the German cake of the nation, and it was part of every Christmas during my childhood in Germany. This classic cake can be made from scratch or use the convenient Dr Oetker Cheese Cake Baking mix.
---

---
4. German Linzer Cake
Classic German cake that is a must bake for Christmas. Sweet memories are connected with this cake. My aunt baked the best one; every year for Christmas. It needs to sit for a while at a cool place before it will be served.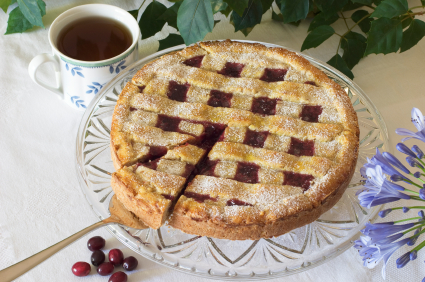 ---
5. Mandarine Orange Schmandkuchen (with Sour cream)
Delicious and festive creamy cake with mandarine oranges and sour cream that will make a great dessert after a holiday meal. The original German recipe is using Schmand, that's why it is also called "Schmandkuchen". Schmand is comparable to sour cream.
---

---
6. German Chocolate Cake
This chocolate cake is not what it is believed to be the German Chocolate cake in the USA. It's a buttery and creamy cake, layered and filled. Great cake for the holidays!
---
7. German Profiteroles, Cream Puffs or Windbeutel.
They can be purchased here frozen but it's not the same taste. The profiteroles taste the best when made from scratch.
---
8. Creamy Cherry Biscuit Roll
You and your friends and family will love this German cherry roll. Consists of a light and dark dough and sour cherries. Just irresistible and delightful.
---
9. Original German Butter Stollen
There is no Christmas without the Stollen in Germany. It is traditional like the Christmas tree. We have an authentic recipe for this delicious cake. Or enjoy this Stollen as part of the German Christmas Box from Lovegermanfood.com
---
10. Classic German Marble Cake
This cake is great for any occasion. As I recall this cake was among other cakes served on Christmas afternoons for the family Kaffee and Kuchen time. We had at least four different cakes. To have just one cake seemed almost impossible!
---

---