The Champagne Sauerkraut or "Champagner Sauerkraut" in German, is a refined Sauerkraut specialty as you can only find in Germany. This is an original German recipe that is proven. It adds to every simple Sauerkraut dish a special touch, and it is easy to make. I recommend to buy German Sauerkraut in the can or jar. It just tastes the best. Happy Cooking!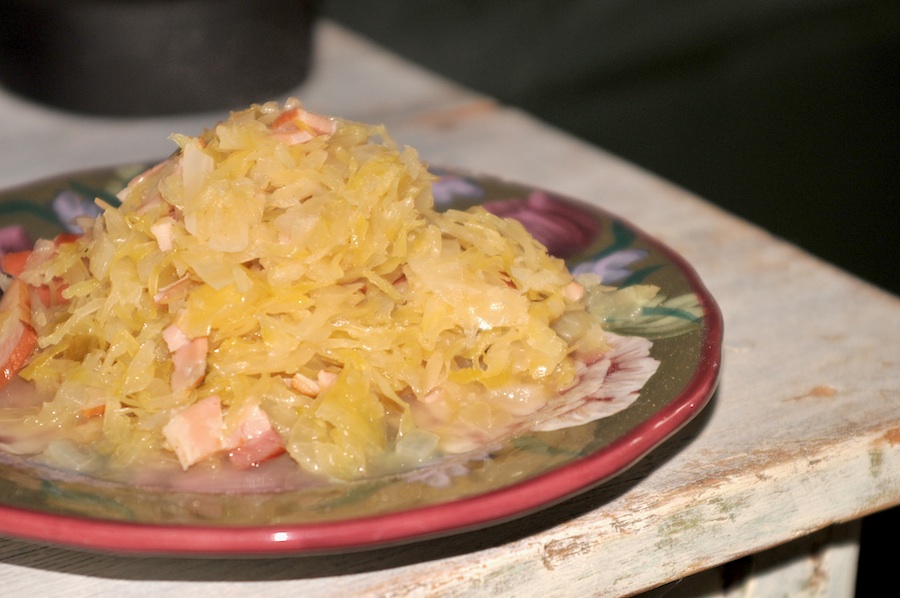 Ingredients Champagne Sauerkraut
1 kg Sauerkraut (raw from the can or jar, without spices)
250 ml white wine, dry (eg Spaetauslese wine)
125 ml Sekt or Champagne, dry (brut)
1 tbsp sugar
200 g Speck
1 onion
2 tbsp butter
caraway seeds (optional)
2 bay leaves
juniper berries
Cooking Instructions Champagne Sauerkraut
– Remove Sauerkraut from jar or can, wash it and drain it in a sieve.
– Cut Speck in very small cubes; chop onions.
– Heat butter and add the shopped onions, saute until they are transparent then add the Speck, saute until they have  a light brown color.
– Add Sauerkraut, then half of the wine, sugar and bay leaves, caraway seeds and juniper berries. Add remaining wine.
– Simmer on low heat for 1,5 hours, add eventually some wine.
– after 1,5 hours remove the lid and let it for 10 min cook, then add Sekt, bring again to  a brisk boil until Sekt is not making any bubbles any more.
– Add small pieces of ice cold butter (to bind it) and add just a bit of salt.
If you like you can add green grapes (seedless); this is an excellent side dish with pheasant.
If you cannot get raw Sauerkraut and you use the one that is already pre-cooked the cooking time shrinks remarkably from 1.5 hours to 15 minutes.
Henkell Sekt Product Locator via Mionetto