Posted on March 19, 2023 by admin
The chocolate cookie cake or "Kalter Hund – Kalte Schnauze" or "Zebra Cake" used to be the birthday cake of mine and I am sure, it was the cake for many other children as well.
This chocolate cookie cake is rich and creamy, and pure chocolate. It is a delightful combination of chocolate and butter cookies (you must use the ones from Leibniz). And you don't even bake it, as the cake will be kept in the fridge for some hours. Other names for this cake are "Zebra Cake" or "Cookie Cake". Some call it "Cold Snout" because it is kept in the fridge for hours before served, so it is very cold, like the dogs snout.
In Germany we are using the popular cooking oil Palmin. It is not available in the USA but you can use any coconut oil that is neutral in taste. This is important. It needs to be refined coconut oil without the typical coconut taste. The following recipe is the original recipe from a 1960 cookbook! Happy Baking!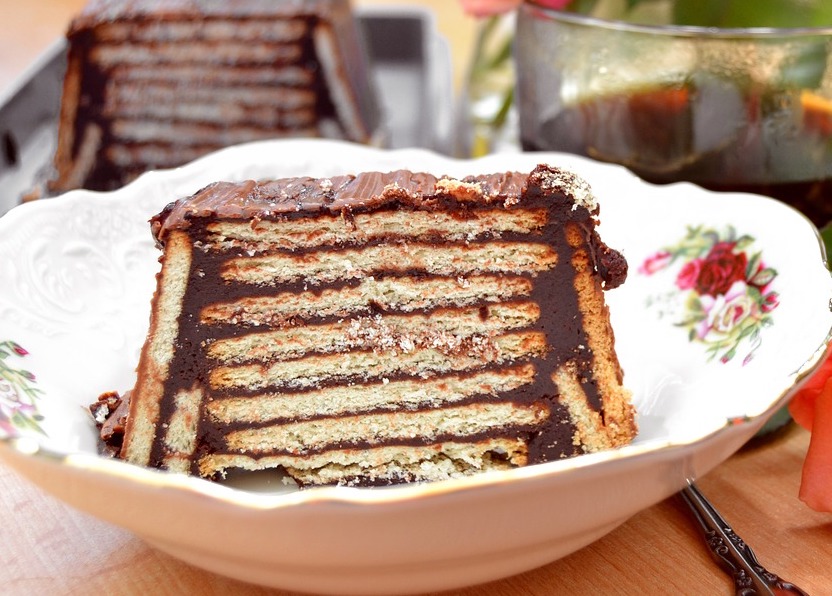 Ingredients Chocolate Cookie Cake
3 eggs
125g powdered sugar
1 sachet vanilla sugar (Dr Oetker), 0.3 oz – How to make Vanilla Sugar –
100g cocoa powder (unsweetened)
300 g coconut oil, expeller pressed, taste neutral
1 tbsp rum or rum flavor
35-50 butter cookies from Bahlsen or Leibniz, 2 packages
Cooking Instructions Chocolate Cookie Cake
– Melt coconut oil , let cool off a bit by removing it from stove.
– Combine it with powdered sugar, cocoa, rum and eggs.
– Mix until you get a smooth chocolate cream.
– Layer a pound cake form with parchment paper.
– Pour a thin layer of the chocolate on the bottom.
– Alternating place a layer of cookies and chocolate on top. The final layer should be chocolate.
– Place the form in the fridge and keep it there for 2-3 hours or longer; the cake needs to be very firm.
– Before you serve turn the form and carefully move the cake out of the form; remove parchment paper.
– Keep the cake chilled until it is served.
Tips
Fix the parchment paper with tape on the outside of the pan.
You can keep this cake in the fridge by wrapping it with aluminum foil.
You can make this cake days before, just keep it cool before serving.
---
Related