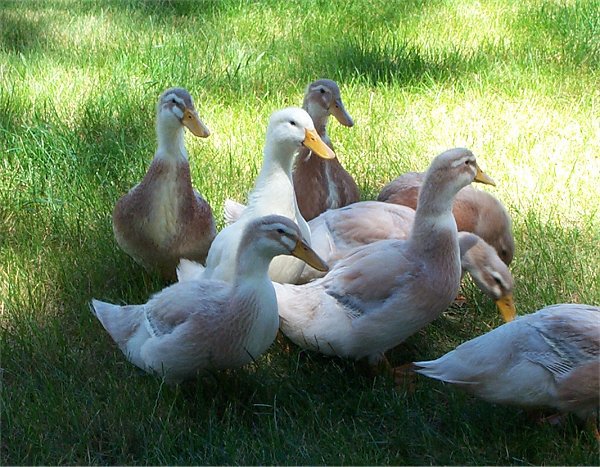 Do you know that you cannot only use chicken eggs but duck eggs for baking? I was lucky to talk to Katharina Davitt who lives on a farm in Oregon where she keeps Saxony ducks.
Saxony ducks are very gentle and smart birds, and love to learn new things.  They are very quiet for ducks and most of the time you don't even know they are around.  They are rather laid back.  Our ducks have grown up with our 3 hunting dogs and they love to hang around together.  They are free ranging all day long, and roam around the meadow with a small stream and pond for swimming.  For more information about this breed see:
The eggs are collected first thing in the morning.  Ducks only lay once every 24 hours in the morning.  Our ducks free range all day long.  Their all day walking is very vital to the quality of hatching eggs and their health.  The duck house is kept above freezing and is cleaned daily.  This is important, since we live in the mountains, where it can get rather cold at night.  We also supplement their drinking water with vitamins, minerals, and probiotics to assure that the eggs are not deficient.
(source: Recipe Brownies with Duck eggs by K. Davitt)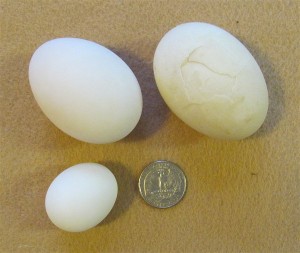 Ingredients Duck Egg Brownies
1 1/3 cups granulated sugar
1 1/2 stick melted butter
2 tablespoons water
2 teaspoons real vanilla extract
2 small duck eggs, use large eggs for cake like brownies (chicken eggs can be used instead)
1 1/3 cups flour
3/4 cup cocoa powder
1/2 teaspoon baking powder
1/4 teaspoon salt
3/4 cup chopped nut or chocolate morsels – optional
Baking Instructions
– Preheat oven to 350F.
– Mix the flour with the cocoa powder, baking powder and salt. Set aside.
– In a mix mix the sugar, butter, water and vanilla extract until creamy.
– Add the egg and mix until uniform in consistency. Mix in the flour mix. Grease a 9×12 pan.
– Add mix and bake for 20-25 minutes. Bake until a toothpick comes out clean.