The German fruit bread is a German holiday specialty and is very easy to make at home. It tastes so good with butter, jam or honey. Great with tea or coffee as well. The only not very common ingredients are  "Citronat" and "Orangeat" which is candied lemon and orange peel, both are important ingredients in the German Holiday Baking. I found  them in US supermarkets but I was not very thrilled about the ingredients (see at the end of the recipe my note).
The fruit cake can be kept in a tin box so it will stay good for 2-3 weeks. If you bake it 2 weeks before Christmas you can enjoy it on Christmas morning. Happy Baking!
Ingredients German Fruit Bread
125 g of each:
sugar
almonds
hazelnuts (Filbert) and
Zitronat or Orangeat (candied lemon and orange peel)
– How to make Citronat and Orangeat –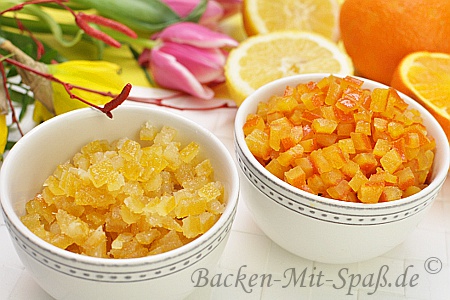 125 g raisins
3 eggs
125 g flour
1/2 package baking powder Dr Oetker – 0.25oz – 1/2 tbsp
125 g dried plums and apricots
125 g dried figs

Baking Instructions German Fruit Bread
– Cut dried fruit and figs in small pieces.
– Chop the nuts and almonds or leave them as whole depending on your taste. I prefer them chopped.
– Mix all ingredients well.
– Place dough into a greased pound cake form or alternatively layer the form with parchment paper (easier to release).
– Bake for 60 min on 180 C or 350 F.
The best is to keep the fruit bread in a tin box so it stays fresh and good for quite some time.
Note on Candied Lemon and Orange Peel:
The most US brands contain the ingredient "high fructose corn syrup" which we never use in German baking. In fact no German baking product contains it as and ingredient. I recommend to use a brand without this ingredient as it is considered to be unhealthy and adds an additional sugary taste to the cake. So it may alter the taste of this delicious German dish. Another option is to make the candied peel yourself.
Get more info why high fructose corn syrup is not healthy…. read more…
---