This German Italian plum cake, called "Zwetschegenkuchen" in German is a wonderful cake when the Italian plumes (Zwetschgen) are ripe. These "Zwetschgen" or "Pflaumen" are smaller than the regular plums that you find normally in the USA.
You might find  plumes on local Farmers Markets or get your own plume tree – Find it here – These special plums are also also Italian Plums.
"Datschi" is Bavarian and means cake. There are many recipes with plums and a famous one is "Pflaumenmus" or plume jam. Try out this delicious plum cake if you have the possibility to find the Italian plums, you will love it! Happy Baking!
Ingredients German Italian Plum Cake
Yeast Dough:
500 g flour
30 g fresh yeast or 1 pk dry
250 ml mildly warm milk
1 dash salt
75 g sugar
75 g butter
2 eggs, lemon zest of 1 lemon (organic)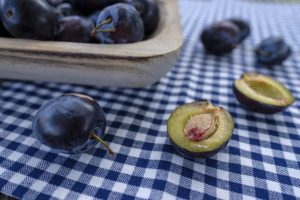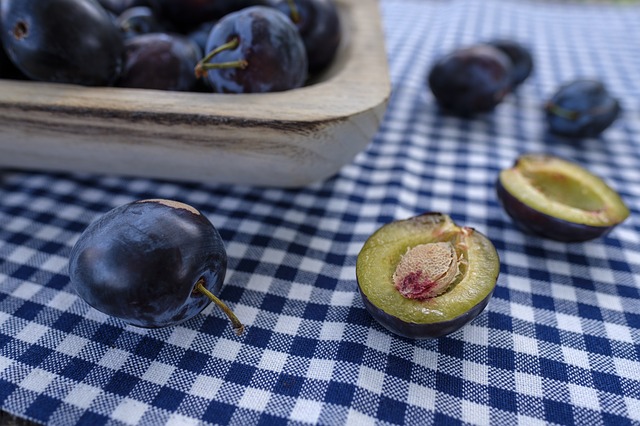 Topping:
2kg Italian plums
1 tbsp cinnamon
50 g coarse sugar (optional)
Baking Instructions German Italian Plum Cake
– For the dough sieve flour into a bowl, make  a mold in the middle, add yeast with some sugar into the mold and stir with some of the milk. – Cover with a clean kitchen cloth. This is the starter dough.
– Keep the dough for 20 min covered at a warm place.
– Add remaining milk, salt, sugar butter eggs and lemon zest, then beat with a wooden spoon or a mixer with kneading hooks until you get a smooth dough without any bubbles.
– The dough is good when it comes off easily from the bowls edges.
– Cover dough again and let raise.
– Knead again, on a wooden baking board with some flour roll it so it will fit the size of your baking tray. Place it on high side baking sheet (2 inches high) that is layered with parchment paper. (see below)
---
Authentic German Baking Mixes Available Now
---
– Wash plums, remove stem and pits, cut them with a knife twice but don't cut them in halves.
– Place plums on the dough in layers (should look like a German roof that is layered with roof tiles).
– Sprinkle cinnamon over plums – you also can make a mix of cinnamon-sugar and sprinkle it on top, or sprinkle coarse sugar (Hagelzucker) on the plums.
– Bake in pre-heated oven on 200 C or 390 F for 20-30 min.
– Add coarse sugar before serving and enjoy a piece with whipped cream and a cup of coffee.
---