The German Marmorkuchen Marble cake is one of these typical cakes that are a "must have" for the traditional "coffee and cake" on Sunday afternoon. This is the traditional "Kaffee und Kuchen" time. German families and friends like to meet Sunday afternoons to enjoy a cup of coffee or tea and a piece of cake. They come together in their homes, or meet in Cafes which are open Sundays, especially on the country side or in small cities. In my childhood we would always have a freshly baked cake for the weekend, and one of them was a marble cake. It was a delicious cake because it was never too dry or too mushy. These are the sweet memories… Coffee and cake. Bring them back wherever you are by making this cake! Happy Baking!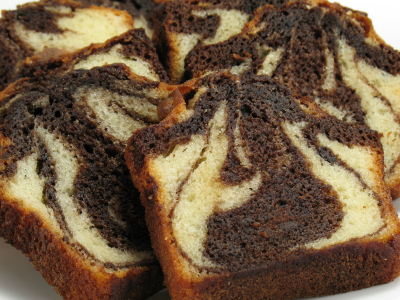 Ingredients Marmorkuchen Marble Cake
250 gr butter
200 gr sugar
500 gr flour
1 package vanilla sugar 0.3oz – How to make Vanilla Sugar –
1 package baking powder (Dr Oetker) 0.5oz
1 dash salt
4 eggs
1 cup milk
For the dark dough:
30 g cocoa, unsweetened
3 tbsp water
3 tbsp sugar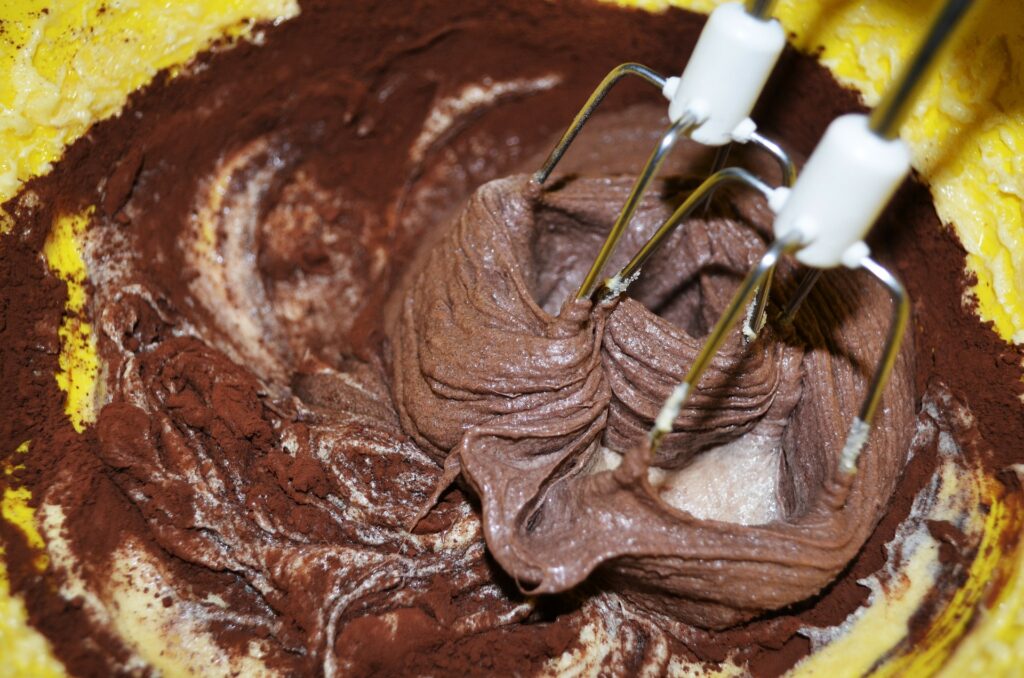 Baking Instructions Marmorkuchen Marble Cake
– Place butter with sugar, salt and vanilla sugar in a bowl and beat with a hand mixer until foamy.
– Add one egg after the other slowly into the dough, mix well.
– Mix flour with baking powder, add flour and milk alternating to the dough.
– Grease a baking form with butter, sprinkle with bread crumbs.
– Pour half of the dough into the form.
Make the dark part of the cake:
– Mix water, sugar and cocoa and bring to a brisk boil.
– Let it cool off  a bit.
– Pour on top of the light dough.
– With a fork mix the 2 parts together so you get the typical marble patter.
– Pre-heat oven to 350 F.
– Bake the cake on the lowest level for about 60 minutes.
– Test to see if the cake is done: Take a knitting needle, tooth pick or a fork and stick it gently into the cake. If no dough sticks on the item, the cake is done.
Remove cake from the oven, let cool off a bit so you can get the cake carefully out of the form.
TIP
If the dough won't be light and fluffy, add some small amount of mineral water to the dough.
Zenker has the best baking forms that are also available in the USA. We recommend the set (see photo below).