Today we feature a special liquor that can be used in a one of kind dessert: The Pear dessert with Escorial.  It's a special dessert indeed.  Find out that Escorial is below.
What is Escorial?
Escorial "The Ultimate Herbal Liqueur" produced from secret selected herbs and spices backed with some high percentage alcohol (56% ABV.) The taste combines a truly unique balance of dryness, sweetness, mint and slight spicy bitterness.
Because of the  relatively high amount of alcohol the liqueur is used especially for flambes but also as an ingredient for various cocktails. The Pear Dessert or "Green Pear" is the first recipe of the Escorial recipe series.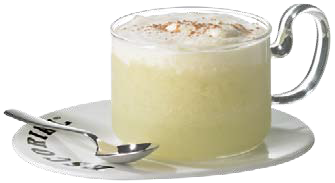 Ingredients Pear Dessert Escorial
· 1/2 small pear
· 4 cl Escorial green, 56 %
· 1 cl Riemerschmid Bar-Syrup raw sugar
· 1 cl lime juice fresh
· 2 cl heavy cream
· cinnamon to taste
Cooking Instructions Pear Dessert Escorial
– Peel pear and remove core.
– Add all ingredients except heavy cream and cinnamon with one heap of crushed ice into a mixer and puree it.
– Whip heavy cream but not too firm, it should be semi-firm.
– Place it into a cup out of glass and top with some whipped cream.
– Sprinkle with some cinnamon and serve it on a saucer and a spoon.
---