Find out how to make Spaetzle Tyrolian style  – a German specialty from Tyrolia or "Tirol" which is actually an Austrian region. Spaetzle are very popular throughout the South of Germany, Austria and also in the North of Switzerland where they call them "Knoepfli". You can make the Spaetzle from scratch or buy them ready made. To make them from scratch it will take some time.  The alternative is to use packaged ones which is also very good. Happy Cooking!
Ingredients Spaetzle Tyrolean Style
for 2-3 servings
For Spaetzle Dough
250g flour
1/2 tsp salt
3 eggs
3 tbsp water
——————————-
2 onions
1-2 tbsp butter
Smoked bacon or German Speck to taste
grated cheese such as Gruyere, Cheddar or Swiss Cheese
2 tbsp parsley and/or chives
salt, black pepper, nut meg to taste
---
This German Box Contains Packaged German Spätzle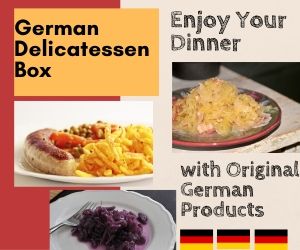 ---
Cooking Instructions Spaetzle Tyrolean Style
– Place flour in a bowl and form a mold in the middle. Add eggs, 3 tbsp water and salt into the mold.
– With a wooden spoon mix everything starting from the middle. Should the dough be somewhat thick, add a bit of water.
– Beat the dough with the wooden spoon until you can see big bubbles.
– The dough is ready when it is falling from the spoon without breaking up into parts.
– Bring enough water to a boil (add some salt), then use a Spaetzle maker (see photo below). Use small portions of the dough and press through the slots of the Spatzle maker by pushing the  movable container back and forth (see video in amazon listing).
– Noodles are done when they float on the surface of the water.
– Remove them with a slotted spoon, place in ice cold water for a second, then let drain in a sieve.
– Peel onions and chop in fine slices; melt butter in a skillet and saute onions on low heat for about 20 min until to a golden brown color.
– Cut Speck in small cubes, add to the onions and saute for about 3 minutes.
– Add Spätzle, saute for 2 minutes.
– Before serving add cheese and sprinkle with chopped parsley.
– Let the cheese melt first, then serve.
A great side dish is a mixed salad (lettuce, tomatoes, carrots).
---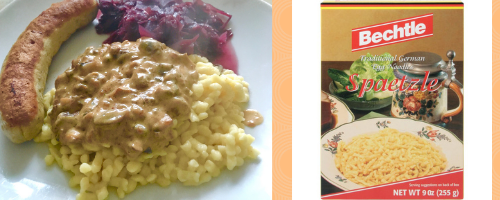 ---
BEST SPATZLE MAKER SELECTION ON AMAZON