German Spaetzle are not only popular in the South of Germany, in Swabia, they are known in Switzerland and the Alsace. I am very happy that I even can purchase dried ones here in the USA!  But do you know how to make them? If not, then you will love the following recipe. Spätzle are served mainly with meat dishes cooked in gravy such as a roast, beef Goulash or beef rolls (Rouladen). They soak up the gravy and are therefor an ideal side dish for your pork or beef roast.
Do you actually know what the word "Spätzle" means? It literally means "little sparrows". In 1725, Rosino Lentilio, a councillor and personal physician from Baden-Würtemberg, stated that "Knöpflein" and "Spazen" were "all the things that are made from flour". Spelt was grown widely in the Swabian-Alemannic area at the time.
Since March 2012, Swabian Spätzle and Swabian Knöpfle have been awarded the EU quality seal for "Protected Geographical Indications (PGI)" and are protected throughout Europe as a regional specialty. In order to be able to bear this sign, one of the production stages of the product must have taken place in the respectively defined region of origin.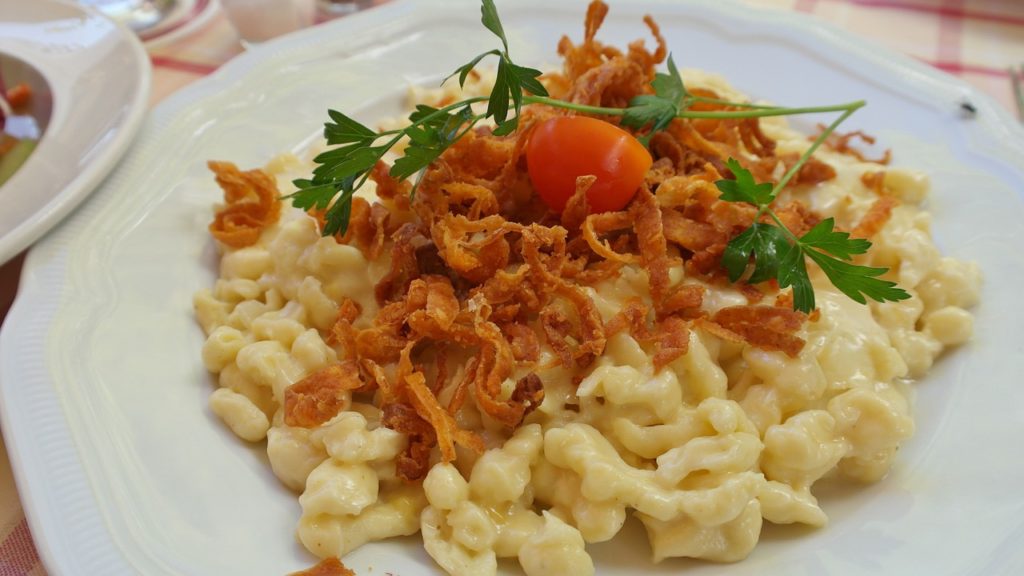 German Spätzle are originally from Baden-Württemberg, the region around Stuttgart, Karlsruhe and Freiburg. German Spätzle served with fried onions and cheese are called "Cheese Spaetzle", and this is a meal for itself that tastes awesome with a mixed salad.
To make them you can use a Spätzle maker like shown on the photo below. Just make the dough and pour it through the movable upper part of the board. Happy Cooking!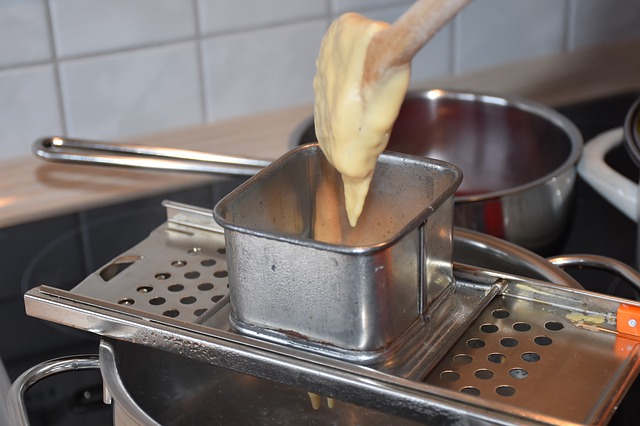 Ingredients German Spaetzle
(serves 4)
2 cups flour (wheat, all purpose) – or 250 g flour
1 tsp salt
1/4 tsp ground nutmeg
3 eggs
1 cup water or mineral water  – 1/4 l water
---
Delicious Swabian Spatzle from Lovegermanfood.com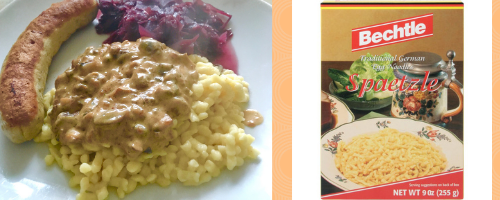 ---
Cooking Instructions German Spaetzle
– Mix the flour with half of the salt and the nutmeg.
– Add eggs, mix them in with a fork.
– Pour in water while stirring constantly with a large spoon until dough is smooth.
– Bring water to a boil in a big pot, add remaining salt.
– Set the Spaetzle maker over the boiling water and by going back and forward with the machine, press the dough through the wholes, a few tablespoons at a time, directly into the boiling water.
– Stir the Spaetzle gently to prevent them from sticking together.
– Boil them briskly for 5-8 minutes or when they are floating on the surface, remove them with a slotted spoon.
– Keep them in a bowl until all are done. Never do them all at one time.
That's all, it is not that complicated. If you don't want to make them from scratch just buy them packaged.
---
Find Spaetzle Maker on Amazon