Convert Recipes to Metric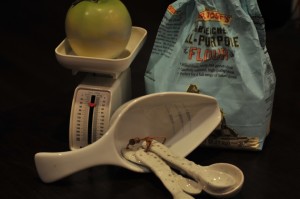 The most recipes on this blog are in the German measuring system. To make it easier for you to cook or bake them I am adding different conversions charts, please use them to find the correct measures.
Measure cups are very useful when containing liter, ml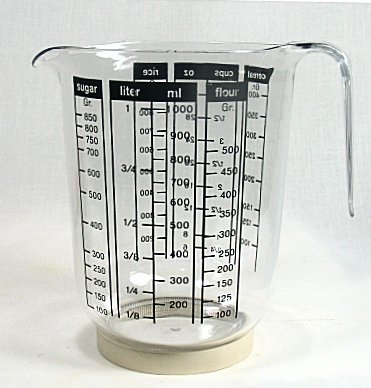 You also can get a cooking or food scale with grams; that's what I use. It is very precise.
Click on the links below
Great online conversion tool
Convert Recipes to Metric
Cooking
METRIC
US
1 ml
1/5 tsp
5 ml
1 tsp
15 ml
1 tbsp
30 ml
1 fl. oz
100 ml
3.4 fl. oz
240 ml
1 cup
1 L
34 fl. oz
1 L
4.2 cups
1 L
2.1 pints
1 L
1.06 quarts
1 L
.26 gallons
1 g
.035 oz
100 g
3.5 oz
250 g
8.8 oz
500 g
1.10 lbs
1 kg
2.2 lbs
1 kg
35 oz

Temperature
FAHRENHEIT
CELSIUS
32°
0°
50°
10°
80°
27°
90°
32°
100°
38°
212°
100°
250°
120°
275°
140°
300°
150°
325°
160°
350°
180°
375°
190°
400°
200°
425°
220°
450°
230°
475°
240°
500°
260°