The German lentil soup is a classic among all German soups. We tried out several options: Using lentils from a can and dried ones. We came to the conclusion: Dried lentils are the best. You can reduce the cooking time when soaking them the evening before in water, and let them sit over night. Just just need to boil them the other day in the same water.
In Germany these recipes such as Lentil Soup or Split Pea Soup are called "Eintopf" which means literally "One pot".  The fact that all ingredients are cooking in one pot at the same time, makes cooking easy. Just stir frequently and, if you use sausages, add the sausages five minutes before the soup is ready. It is also easy to make a vegetarian dish by not using the bacon and sausages. Happy Cooking!
Ingredients German Lentil Soup
(serves 4)
2 cups dry green or brown lentils
1-2 medium sized potatoes
1 medium sized onion
1-2 carrots
2 thin slices of German Speck (Bacon or smoked ham)
1/4 celery root
2 celery stalks
1-2 tsp sunflower or safflower oil
Purified or spring water as needed
2 tsp mustard, preferably German
Thyme and/or marjoram to taste
2 bay leaves
Salt, fresh ground pepper to taste
2 tbsp parsley, chopped
2-4 tbsp White Wine Vinegar (or to taste)
4 Wiener or Frankfurter Sausages
---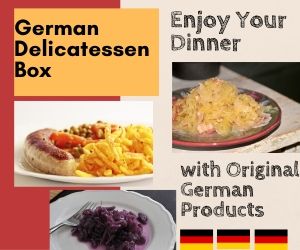 ---
Cooking Instructions German Lentil Soup
– Wash dried lentils, then soak them in water the day before. They should be covered with water. Let sit covered over night.
– Peel potatoes and cut them into small cubes.
– Cut celery root, stalks and carrot in small pieces.
– Chop onion, cut ham in small cubes.
– In a medium to big sized pot heat oil, add onions and saute for 1 minute.
– Use lentils with the soaking water, add to onions. Fill up with water if you don't have enough (lentils soak up the water, so you need to add some, lentils should always be covered with water).
– Add potatoes, carrots, celery, and bay leaves. Add some more water if needed.

– Bring to a boil, let simmer (covered with a lid) on low heat for about 1 hour until lentils are very soft. Do the test, if they are not soft, let them cook longer.
– While the soup is cooking, add mustard, vinegar, herbs, salt and pepper to taste.
– Stir frequently so it won't stick to the bottom of the pan. Add some water if the soup gets too thick.
– 10 minutes before the soup is ready add the sausages to warm them in the soup. Of course you could boil them separately but the typical way is to cook them in the soup.
– If you want cut the sausages into pieces, and add them to the soup until they are cooked.
– Add parsley before serving.Serve the lentil soup with fresh farmers bread and butter. In Southern Germany the soup is combined with the Southern pasta specialty "Spaetzle". In this case you would cook the Spaetzle separately and serve them with the soup.
---
– Recipe for Lentil Stew and Spaetzle –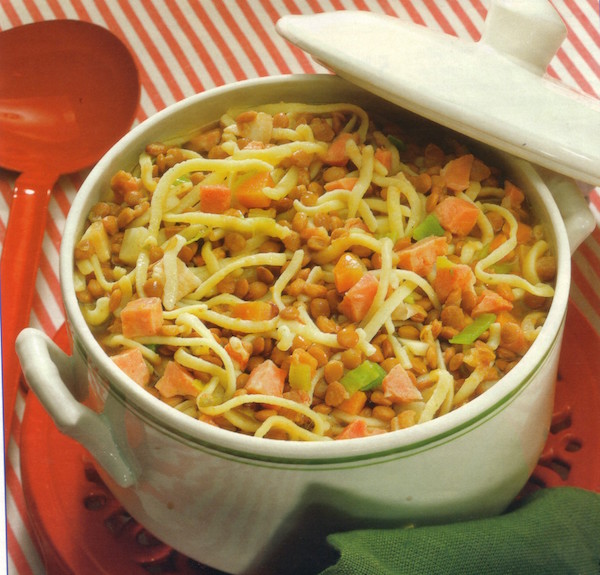 ---
TIPS
For a vegetarian version: Instead of using ham and sausages just cook lentils with the vegetable.
Add some tomato paste.
Instead of oil use lard.
Add vinegar before serving or use it as needed at the table. Helps to better digest the lentils.
If you don't soak the lentils the day before the cooking time will be on low heat (simmering) up to 3 hours.
---