The Bohemian Poppy seed Strudel, or also called "Striezel", is a German specialty that comes from the Polish and Silesian cuisine but also from the Austrian part when it used to be Germany.  So what's the difference? If you want to make it as a "Striezel" the dough would be braided. As a "Strudel" the dough would be rolled.
In both ways this delicious cake is made out of a sweet yeast dough with ground poppy seeds. if you cannot get ground poppy seeds you must grind them. You can use an herb or your coffee grinder. If you use an already made filling check the sugar content. If it is already sweeten ed you must adjust the sugar amount.
Some recipes add Streusel on top but for this one we just used powdered sugar. There is a German poppyseed strudel baking mix available now that is imported from Germany (see at the end of the recipe). Happy Baking!
Ingredients Bohemian Poppy Seed Strudel
500 g flour, all purpose, unbleached
30 g fresh yeast or 1 package dry yeast
1/8 liter milk
1 dash salt
80 g sugar
1 egg
125 g butter
1 tbsp lemon zest
Filling
300 g poppy seeds, ground – Use a spice or coffee grinder for grinding
200 g sugar
300 ml milk
0.5oz or 1 package vanilla sugar – How to make Vanilla Sugar –
zest of 1 lemon, organic
1 egg
Baking Instructions Bohemian Poppy Seed Strudel
– Place flour into a bowl, make a mold, fill in the yeast that had been mixed with some semi-warm milk.
– Add some flour and sugar and mix it – this is the starter dough (Vorteig).
– At a warm location let it raise covered for 15 min, then add remaining milk, sugar, salt, egg, lemon zest and grated butter.
– Knead until you get a smooth dough.
– At a warm place let it raise again covered (kitchen cloth) for 30 min.
Filling
– Bring milk to a brief boil.
– Add all ingredients.
– Let simmer until it thickens, then let cool off.

– Divide dough in 2 parts, roll each part on a baking board that is sprinkled with flour.
– Spread on each part the filling and roll it.
– Let rest for 20 min.
– Beat an egg and brush it over each roll.
– With a fork poke each strudel several times.
– Meanwhile pre-heat oven to 180 C or 350 F.
– Bake on lower section of the oven for about 45-60 minutes (depends on the oven).
– When the Strudel is done dust the surface with powdered sugar right before serving.
---
THE GERMAN POPPYSEED BAKING MIX
Find this baking mix in our shop on LoveGermanFood.com – It's an authentic German Kathi Baking mix for a poppyseed strudel. Contains all ingredients, just add the fresh ones. Made in Germany – ORIGINAL and GOOD. Easy to follow instructions – Check it out!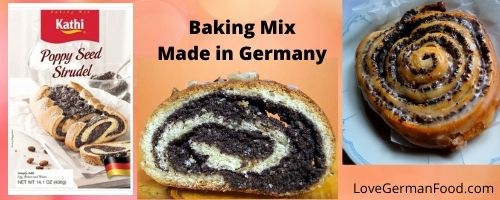 ---