Do you know How to make Vanilla Sugar? I received this question quite often and decided to answer it in this article. To make your own vanilla sugar is a good idea especially when living abroad as in Germany every supermarket carries this popular German baking ingredient. In the USA it is only available in German specialty stores and online. We use vanilla sugar in almost any cake and dessert. It cannot be substituted with normal sugar. The best one to buy is the one from Dr Oetker but make sure to get the BOURBON VANILLA and not the one that is artificially flavored. Or just make it from scratch. Happy Cooking!
Ingredients
2 whole vanilla beans, the seeds from  inside
400 g sugar (white or brown, as you like)
OR
2 vanilla beans
250 g powdered sugar
Instructions
 You can also use already used vanilla beans or use the vanilla seeds inside. Scratch the seeds out of the vanilla and add to sugar.
For using the beans: Add half of the sugar in a jar with a lid (should be closing  tight).Place the whole vanilla beans in the sugar, then cover them with remaining sugar;  they should be completely covered.
Let is rest for some days so that the fragrance will be in the sugar. Leave the beans inside the sugar.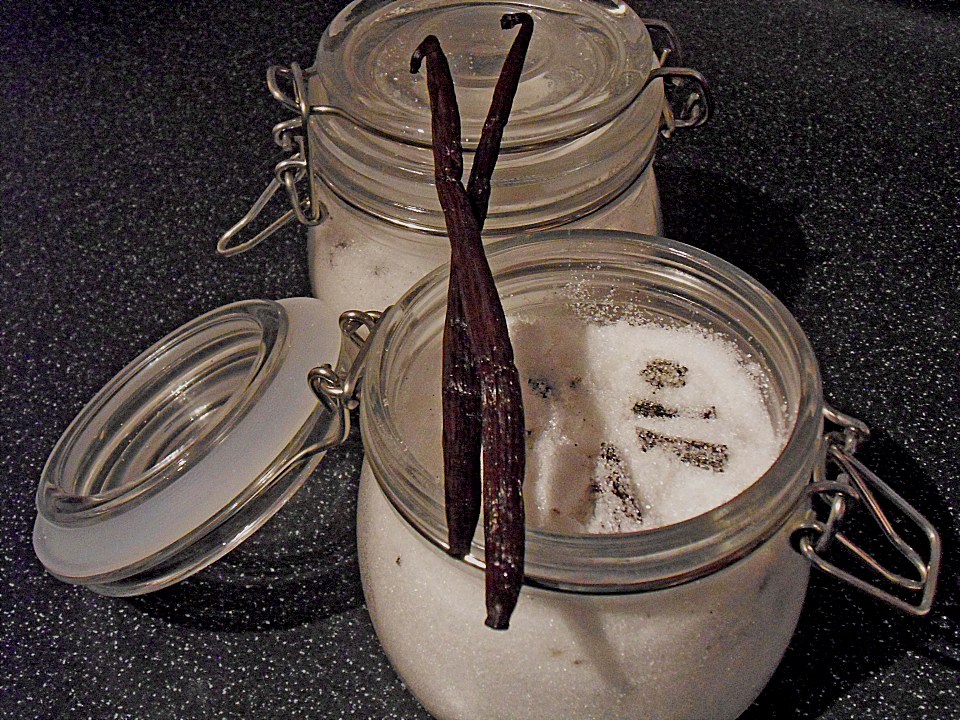 Variation with powdered sugar
Use the whole bean; cut it in smaller pieces. Don't scratch the seeds out of the beans.
In a coffee grinder grind the bean pieces with some tea spoons powdered sugar until they are really tiny.
Sieve the sugar because powdered sugar can have some clumps.
Fill powdered sugar in an airtight jar and add the mix from the coffee grinder, and mix well. You can use it right away. This variations is very strong, so use first a little bit, then try and add more if needed.
Tips
The vanilla beans get very hard after some time. You can cut them into very small pieces or grind them in a processor or mixer. If you add the ground vanilla beans to the sugar it will get brownish but more vanilla fragrance will be added.
 When the vanilla beans are hard cut them in small pieces and add them to the ground coffee. Adds some nice vanilla fragrance to the coffee powder.
If you like vanilla pudding add the hard and dry beans to the milk, this adds more vanilla taste to the pudding.
---
---