If you like potatoes and Brussels Sprouts than the Potato Brussels Sprout Puree is a great dish for you.
It is a wonderful side dish for fried meats such as pork, beef, fish or chicken. A very easy German dish. Try it out and let us know how you like it! Happy Cooking!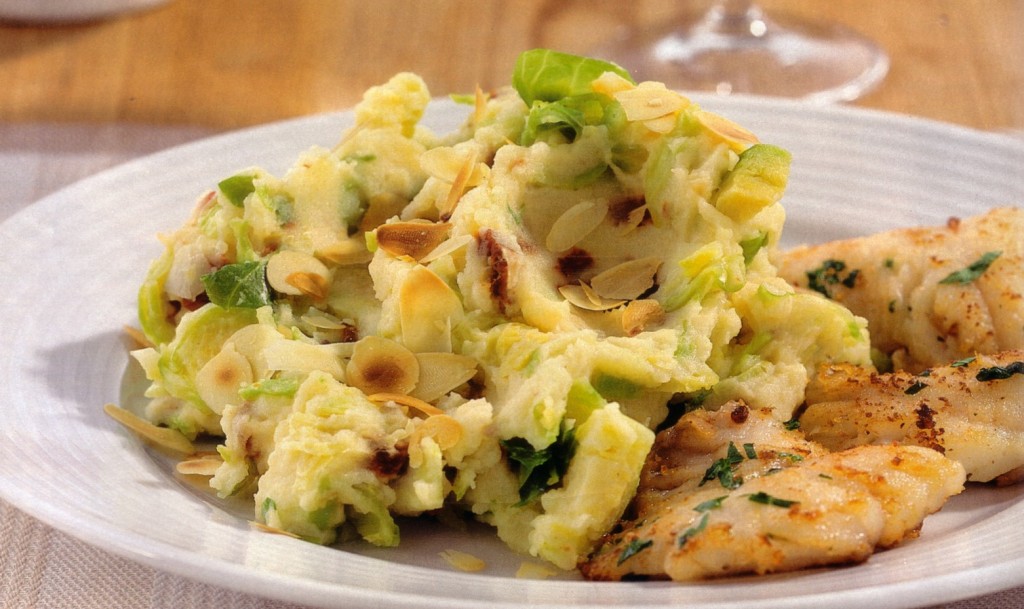 Ingredients Potato Brussels Sprouts Puree
(serves 4)
800 g potatoes  such as Russet
40 g almonds, sliced
700 g Brussels sprouts
2 tbsp dried tomatoes in oil (optional)
150 ml milk
40 g butter
60 g Parmesan cheese, grated (optional)
fresh pepper, salt to taste
Cooking Instruction Potato Brussels Sprouts Puree
– Peel potatoes, cut in smaller pieces.
– Boil for 25-30 minutes in water with some salt or until soft.
– Roast the almond slices in a pan without any butter or oil.
– Chop the dried tomatoes coarsely.
– Clean and prepare Brussels sprouts; boil them in water with a dash of salt for 8-10 minutes or until soft.
– Drain Brussels sprouts,  place for 2 seconds in cold water, let cool off, then chop coarsely.
– Add milk, butter and chopped dried tomatoes in a pan; bring to a boil.
– Combine potatoes with milk, puree until smooth.
– Add Brussels Sprouts to mashed potatoes and re-heat it, mix in Parmesan cheese,
– Spice with salt and pepper to taste.
– Sprinkle almonds on top and serve hot.