Posted on December 7, 2018 by admin
You have found a traditional Austrian recipe for today's Old Fashioned Filled Almond Christmas Cookies. This recipe is more than 100 years old. The cookies are little pockets filled with a  delicious almond filling. They are also called  almond pockets. Even it is an ancient recipe it fits perfectly into modern times – it's very easy to make and does not need any special ingredients. You find them in your regular store. Happy Baking!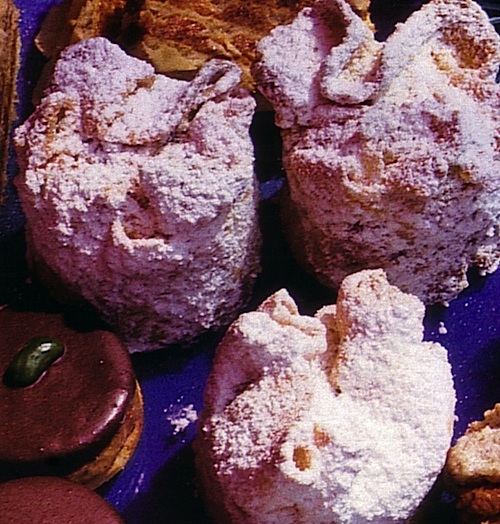 Ingredients Old Fashioned Filled Almond Christmas Cookies
150 g flour
150 g butter
4 egg yolks
some flour, some butter
Filling
150 g almonds, ground
4 egg whites
150 g sugar
1 package vanilla sugar, 0.3 oz – How to Make Vanilla Sugar –
or 1-2 tsp natural vanilla extract
powdered sugar
Baking Instructions Old Fashioned Filled Almond Christmas Cookies
– Knead a dough out of flour, butter and egg yolks.
– Cut dough in half and roll each half to a roll of 3cm diameter (1.5 inches). Cut 24 pieces and form each one to a ball.
– Cover them and keep in fridge for 2 hours.
– Beat egg white until very firm, add slowly sugar and vanilla sugar and beat it for another 2 minutes.
– Fold in almonds.
– Dust baking board with flour and roll the dough balls very thin to the size of a mocha plate. Move them carefully with a wide knife or dough spoon on the inside of your hand.
– Place in the middle 1 tablespoon of the filling and fold the dough like a tulip together.
– Place the pockets in metal rings or you can use paper cupcake forms that you place on baking trays layered with baking paper.
– Bake them on 200 C or 390 F for 20 minutes.
– Let them cool off a bit, take them out of the rings or cups, then dust them with powdered sugar.
Related