This is a great cake for summer when peaches or apricots are ripe. But it's also delicious with canned fruit to make this original German cake. The cake base is a yeast dough (not that difficult to make) topped with with apricots/peaches and sliced almonds. You can use canned or fresh apricots or alternatively peaches. If you use fresh ones you need to remove the skin – Happy Baking!
Ingredients Apricot Butter Cake
60 g unsalted butter (1 stick butter is 114g)
1 cube or 1 package dry yeast
500 g flour – 2 cups
1 egg
250 ml milk
50 g sugar
zest of 1 organic lemon
1 tbsp flour for kneading the dough
CAKE TOPPING
130 g butter, cold
1 dash salt
140 g sugar
1 can apricots – 850ml or alternatively peaches, or fresh apricots/peaches
100 g sliced almonds
1/2 tsp cinnamon
Baking Instructions
MAKE THE YEAST DOUGH
– Melt butter (don't let it get hot).
– Warm milk a little bit, dissolve yeast in milk.
– In a big bowl combine flour, egg, sugar, salt, lemon zest, cooled off butter and yeast-milk.
– Mix well with the hand mixer using kneading hooks for 5 min until you get a smooth dough.
– With hands knead the dough very well, place in a bowl, and dust with 1 tbsp flour.
– Cover with a clean kitchen cloth and let raise at a warm place for app. 30 min (should raise to double amount).
– Knead dough again very well with hands. It's easier if you sprinkle flour on your hands.
– Grease a deep baking tray (size 42×29 cm or 12 x 17 inches).
– Spread dough evenly on the baking tray.
– Let raise again for 10-15 min.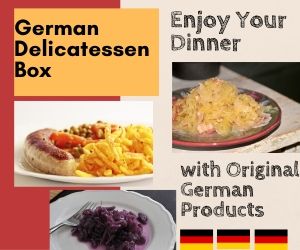 TOPPING
– Mix cinnamon with sugar.
– Drain apricots, if they are not in halves cut in halves.
If you use fresh apricots remove the skin by placing them in hot boiling water for some minutes, then dip in ice water briefly. With a  sharp knife remove the skin. Apricots must be ripe other wise the skin won't be easily removed. The cut them in halves, remove pit and dust with powdered sugar.
– Gently press them apricot halves into the dough.
– Let dough raise again 15 min.
– Cut cold butter in small cubes.
– With a wooden spoon press little molds into the dough in between apricots.
– In each mold place a butter cube.
– Sprinkle with almonds and the cinnamon-sugar mix.
– Bake in pre-heated oven on 350 F for about 20 min until the cake is golden brown.
– Let cool off before cutting it in rectangle shaped pieces.
TIP
Place a fire proof cup or bowl with water in the oven while the cake is baking. It  will improve the cake quality.
Serve with whipped cream and/or a scoop of vanilla ice cream – Lecker!
NOTE
The German baking trays are having different sizes than the American versions. For this cake the baking tray has to be deeper than a regular cookie baking tray. In Germany you use a special "Backblech", a baking tray that is only designed for baking cakes. So it has to be at least 4 cm or 2 inches deep. If you cannot get such a big baking tray use 2 smaller ones such as aluminum foil pans.
---
---