The German coffee cake Sandkuchen is a popular and classic cake for the so called German "Kaffeeklatsch", the time when friends meet to talk and enjoy  a cup of coffee or tea with a piece of cake.
The Sandkuchen cake is a perfect combination with tea or coffee. This coffee cake is a very easy recipe and even baking beginners can be successful. It is also a great cake recipe for the last minute because normally all ingredients are in the pantry. Happy Baking!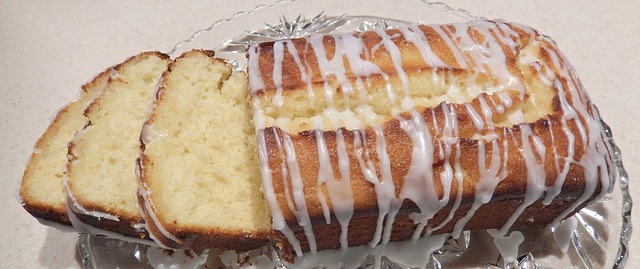 Ingredients German Coffee Cake Sandkuchen
125 g butter
100 g confectioners sugar
1 package vanilla sugar, 0.3 oz – How to make Vanilla Sugar –
25 g potato starch (or Maizena, Mondamin)
2 eggs
1 dash salt
100g flour
1/2 tbsp baking powder Dr Oetker (not baking soda)
Yummy German Goodies in ONE Box
Baking Instructions German Coffee Cake Sandkuchen
– Melt butter and let cool off.
– Add sugar and vanilla sugar to the butter and beat until it is foamy.
– Mix flour with baking powder and starch.
– Add eggs, and spoon by spoon the flour. Mix well.
– Grease a rectangle pound form, or layer it with parchment paper.
– Preheat oven to 350F.
– Pour dough into the form and bake for 55 min on 350F – Do the test by poking the dough with a toothpick. If no dough sticks on the wood, the cake is done.
You can glaze the cake with melted chocolate or a lemon glaze. Melt chocolate with the double boiler method until liquid.
Lemon Glaze:
– In a bowl mix the juice of 1-2 lemons with powdered sugar or confectioners sugar.
– Add more sugar or lemon juice as needed o achieve desired consistency.
---