Summer time is zucchini time, at least in Germany, if you have your own garden. During the summer months zucchini can be harvested in abundance. Hence the filled zucchini recipe!
If you don't own your own garden we recommend to get some fresh and organic zucchinis at your local farmers The recipe  is very easy and ideal for cooking beginners. For this dish you can also use yellow squash with the same filling. Happy Cooking!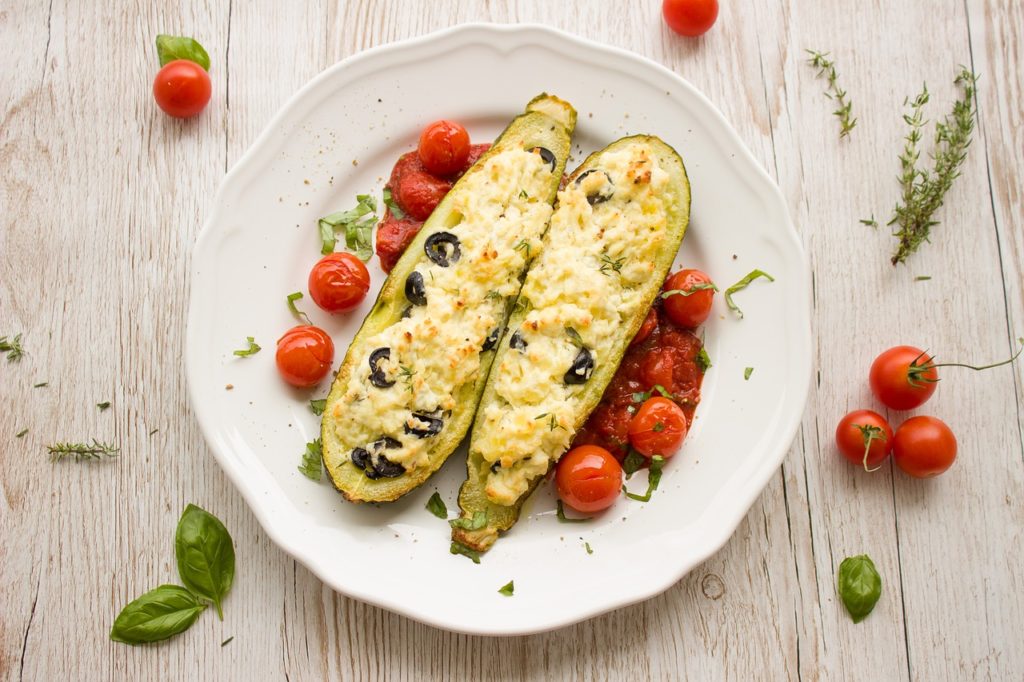 Ingredients Filled Zucchini Recipe
(serves 4)
1 roll (not fresh, 1 day old) or 2 slices of baguette or wheat bread
4 medium size zucchini
1 small onion, 1 garlic clove
3 tbsp chopped parsley
4 tbsp chopped black olives
300 g ground beef
1 egg
1 tsp (German) mustard
mild paprika powder, salt, pepper, fresh grated nutmeg to taste
1 can tomatoes, 15 oz
1 tbsp oregano (fresh or dry)
100 g grated cheese (Swiss cheese, Cheddar)
Cooking Instruction Filled Zucchini Recipe
– Soak bun in water; wash zucchini, remove ends, cut vertical and take off the middle part with a spoon, chop it fine.
– Peel onion, chop fine; wash parsley, dry it and chop fine.
– Mix ground beef with egg, zucchini, onion, parsley, spices, olives.
– Press all water out of the  roll and add to the beef mix. Knead until you get a dough.
– Fill each zucchini.
– Peel garlic, place in garlic press and squeeze through press.
– Drain tomatoes, keep the juice, chop tomatoes.
– Mix tomato juice with garlic and oregano, add salt and pepper.
– Fill tomato sauce in a fire-proof long rectangle form and place zucchinis on top of it.
– Sprinkle with cheese.
– Place the form in the cold oven and bake it for about 1 hour on 180 C or 350  F.
Serve with some cherry tomatoes, your favorite pasta or mashed potatoes.