Learn today how to make German potato rolls from scratch. These rolls have a wonderful crust and they are fluffy inside, just as we love rolls in Germany. The ideal way is to create a flower bread (see photo) instead of a whole bread because the crust is the best when making rolls.  You will love these rolls. Happy Baking!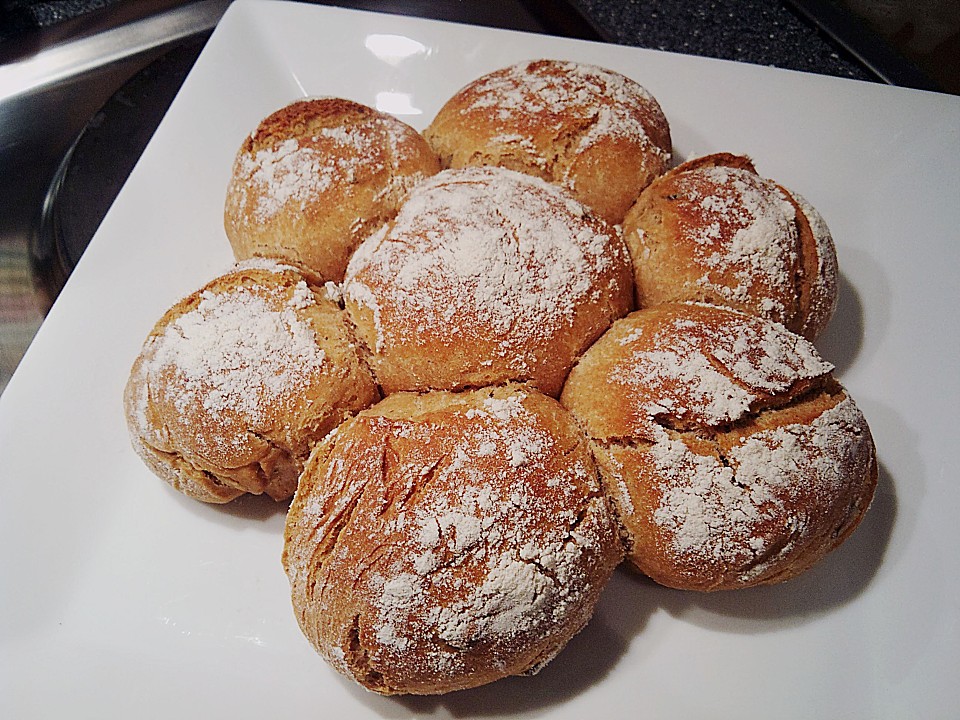 Ingredients German Potato Rolls
(makes 2 "flower breads or 25- 30 rolls)
700 g potatoes (yellow, Gold)
4 tsp salt
1 tbsp dry yeast – All about Yeast –
2 tbsp olive oil
260 g whole grain flour
400 g flour, Typ 405, US pastry flour  – See All About German Flour for more Info –
4 tbsp seeds such as sunflower, sesame, linseed,  etc.
flour for kneading
Baking Instructions German Potato Rolls
– Peel potatoes, slice and boil in water with 2 tsp salt until they are soft. Keep covered when boiling.
– Drain potatoes but keep the water, let cool off a bit in the sieve.
– Place seeds in a bowl, pour hot water over them; let soak for 5 min.
– Mash the cooled off potatoes.
– Place them in a bigger bowl that has enough space for kneading. Or use a stand mixer.
– Put yeast in 120ml of the potato water, let raise briefly.
– Add oil and yeast to the potatoes, drain the seeds.
– Mix in salt, seeds and flour, then if you use a stand mixer have it knead for 2-3 min on low speed then 12 min on medium speed. The dough is at first crumbly and firm but will become softer. When it has this consistency add additional water (not earlier). The dough should be moist but NOT sticky. If necessary add some flour or water. You need to get a smooth dough.
– Cover dough with a kitchen cloth and let sit for 30 min.
– Place dough on a floured baking board and with a dough cutter cut it in half.
– If you want to make the flower looking bread (as shown in the photo) you need to cut the 2 halves in 2 more pieces: 1/4 for the middle and remaining dough for 8 pieces that go around the middle (like a daisy flower).
– If you make rolls cut the dough in pieces of desirable size.
– Every dough piece should be formed into a ball and then you would press this ball flat. You would roll the flat dough from the upper ends towards you form all sides, then slide it turned around on the floured surface. (see video) This process is called "schleifen".  This way the rolls get round on all sides. Now we want that the rolls tear a little bit on the surface while they bake. To achieve this the "seam" should not be completely closed, there should be a little bit of flour in between.
– Place the rolls with the seam on the bottom on a floured kitchen cloth and cover with another kitchen cloth. Don't place them together to a flower. They need to raise for 30 min.
– Pre-heat oven to 375 F (you can place 1/2 cup of water into a roasting pan that will be placed on the bottom of the oven; the more steam there is the better the crust; do this before you place the rolls into the oven).
– Turn rolls around and place them on a baking tray, put them together to a flower, you can moisten the sides where they will be touching with some water so they stick better. Or bake them as rolls.
– Bake for 40 min. They are done when you hear a hollow sound by tapping the bottom of the roll. Wait 20 min before you cut them.
The video below shows ho to do the process of "schleifen".