Learn today how to make German Green Beans Wrapped in Bacon. It's a delicious side dish for any menu. The recipe is using summer savory (Bohnenkraut) which is an herb that came to Germany in the 9th century,  brought by monks to grow in their monastery gardens.
Summer savory is used in combination with vegetable like beans, lentils, dried peas and helps with the digestion, diminishing unpleasant side effects. Find it fresh on a farmers market, or get the seeds. It is not quite a common American herb, and it might be a bit difficult to find it. Using dry summer savory can be the alternative.
Green beans are very nutritious. They are low in Sodium, and very low in saturated Fat and cholesterol. Green beans make also a good source of Protein, Thiamin, Riboflavin, Niacin, Vitamin B6, Calcium, Iron, Magnesium, Phosphorus, Potassium and Copper, and a very good source of dietary Fiber, Vitamin A, Vitamin C, Vitamin K, Folate and Manganese. As you can see this green vegetable is very nutritious. Happy Cooking!
Ingredients German Green Beans Wrapped in Bacon
800 g fresh green beans
10 branches summer savory (Bohnenkraut), fresh
1 garlic clove (optional)
1 tsp black pepper corns
2 tbsp salt
1 tbsp oil
8 slices bacon or German ham, alternatively Prosciutto
1 tbsp butter
water to cook the beans, 1 dash salt
---
EDORA SEASONINGS ADD the SPECIAL TASTE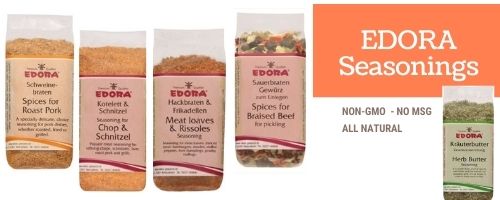 Cooking Instructions
– Wash beans and remove ends.
– Peel garlic clove, smash peppercorns.
Place oil in  a pan, roast whole garlic clove, pepper corns, salt and summer savory briefly in oil.
– Add water, let cook for 10 min, drain.
– Separate beans in 3 portions. In this broth bring each green bean portion to a boil and let cook until soft (not too soft, they should be al dente)
– Dip beans fast in ice cold water (ice cubes and some water) to let them cool off, place on kitchen cloth and dry them.
– Wrap about 8-10 beans in 1 slice of bacon. If you use German ham or Prosciutto don't pan fry.
– Heat butter in fire proof form (iron cast), place wrapped beans in form, cover with lid. You also can use a regular skillet and fry the beans until bacon is crunchy.
Important is to place the wrapped beans with the bacon seam facing the bottom and not facing the top. You can use tooth picks to hold the wrap together.
– Bake for 5 min on 360 F – turn them one time.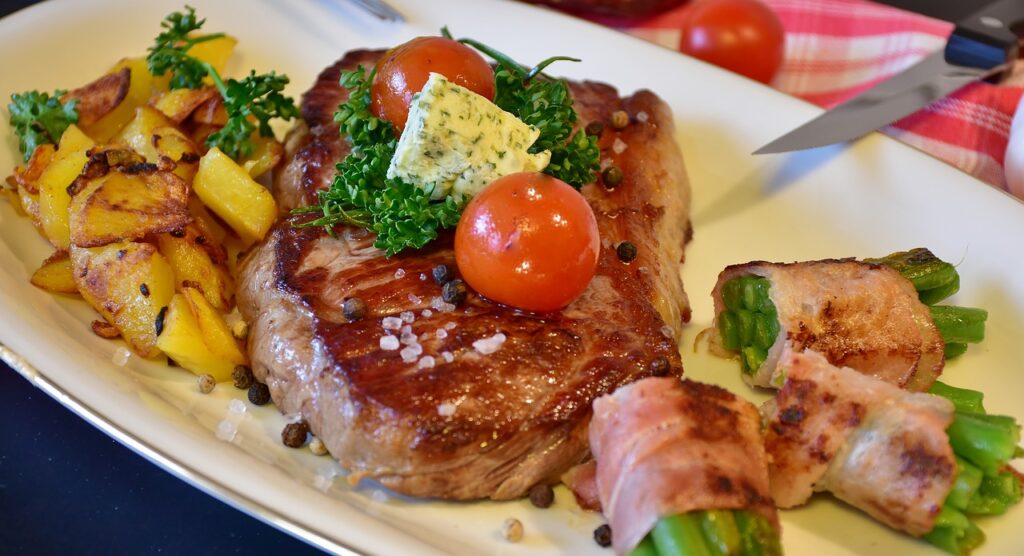 SERVING OPTIONS
Side dish for pork chops, pork or beef roast
With Fried Potatoes or Potato Salad
Roesti
Filet Mignon
Steaks
---