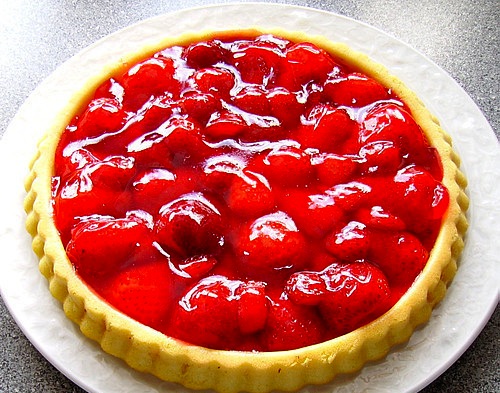 German Fruit Cake is a very popular in Germany especially in summer when the fruit is ripe. The best is to make the biscuit cake which is the base for the cake. The fruit comes on top and is layered with a glaze and can be topped with whipped cream as well. Use strawberries, raspberries, combine with peaches, kiwis or red currant berries - you can practically use any fruit for this cake. Happy Baking!
Ingredients German Fruit Cake
2/3 cup flour
1/2 cup sugar
6 eggs
1/4 cup oil
2 Tbsp vinegar
1 Tbsp baking powder
2 pkg Vanilla sugar - How to make vanilla-sugar
Baking Instructions German Fruit Cake
- Preheat oven to 350 degrees F
- Mix together all ingredients with a spatula to half runny dough.
- Pour into a greased pan and bake for 15 to 20 minutes.
This recipe is from FB fan Sheila Fingerhood - thank you!
Now the cake is ready to place any fruit on top.  Use fresh strawberries, raspberries, pear, blackberries, blueberries, pineapple or a mix of fruit. Cut big fruit like pear or strawberries in half or slices.
Glaze
The cake is finished with a glaze  which is available from Dr. Oetker. You can get this glaze in red, clear, with sugar or without. Make the glaze per instructions on the package.
FaceBook Comments
comments