Cabbage Carrot Salad – Cabbage is a popular vegetable in Germany and you can use it for different dishes such as Sauerkraut of course but also for salads.
Cabbage tastes good pickled, hot and cold and raw. One popular German recipe is of course  Sauerkraut but that's not the only cabbage recipe. In a former recipe  we showed you how to male Sauerkraut stew and Sauerkraut soup, today it will be a Cabbage salad combined with carrots, hazelnuts and a horseradish dressing. It is a nice addition for the BBQ. Happy Cooking!
Ingredients Cabbage Carrot Salad
(4-6 servings)
500 g white cabbage
250 carrots
3-4 tbsp apple vinegar
1-2 tbsp horseradish, salt, pepper
6 tbsp oil
50 g hazelnuts
Cooking Instructions Cabbage Carrot Salad
– Cut cabbage in 4 pieces, remove stem, and grate it in fine stripes.
– Wash and clean carrots and grate them roughly; mix carrots and cabbage in a bowl.
– Mix vinegar with horseradish and oil, salt, pepper.
– Add it to the cabbage carrot salad and let it rest for 15-20 minutes.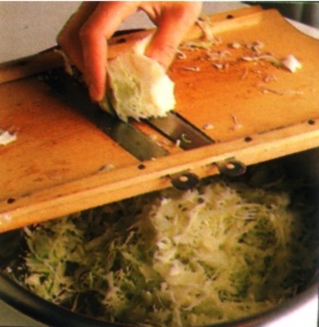 –  Chop the hazelnuts roughly and sprinkle them over the salad.
That is all. Serve it with French bread or German farmers bread.
Photo on the left shows how to grate cabbage. In Germany they use a special grater that can be purchased on Amazon (see below).