If you should have left over dumplings (this might happen even it sounds strange because dumplings are so popular when served) you will love this recipe Fried German dumplings. The dumplings are sliced and will be combined with ham/bacon (Speck) and fried onions. Yummy. Happy Cooking!
To make the Dumplings:  Go to the RECIPE – Potato Dumplings Half and half –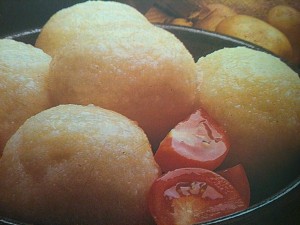 Ingredients Fried German Dumplings
2 dumplings, cold, left over
2 tbsp sunflower oil
2-3 tbsp ham/bacon, chopped in cubes
1 small-medium onion
chopped parsley
(optional: breadcrumbs, natural, no spices )
---
These Half and Half Dumplings come in a Pouch

---
Cooking Instructions Fried German Dumplings
Cut the cold dumplings in slices. If you like you can turn each slice in bread crumbs.
Heat oil in a non-stick pan.
Place slices into the oil and brown them (but not too much) evenly on both sides.
Remove from pan, set aside and keep warm.
Add a bit more oil, fry the ham or bacon (if bacon is containing a lot of fat don't add extra oil as it will get too greasy).
Chop onion fine, add to ham and saute for some minutes.
Place the dumpling slices back into the pan and mix with the ham-onion mix, sprinkle chopped parsley on top.
You can also place the dumpling slices on a plate and place ham-onion mix on top. Serve with lettuce, mache salad or mixed greens.
---
With Sauerkraut, Red Cabbage and Spätzle
Always Good: The German Delicatessen Box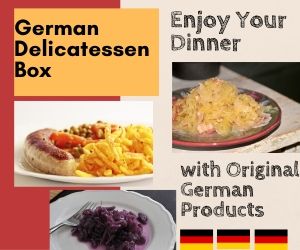 ---