Find out how to make the German Plunder pastry with sour cherries that can be found in every German bakery.  In Germany these pastries are made fresh daily. They can be made with vanilla pudding, quark with jam (raspberry, apricot) or assorted fruit on top. If you cannot get sour cherries you can use apricots or raspberries. Many recipes use yeast for the dough, this recipe is using frozen puff pastry dough that you can find at the supermarket dough. The sour cherries can be found at Trader Joe's or at international supermarkets that carry Far East products. Happy Baking!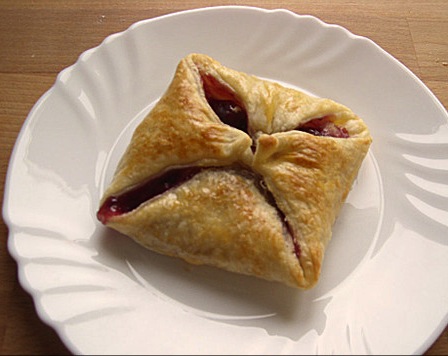 Ingredients (for 12 pastries) German Plunder Pastry with sour cherries
1 package puff pastry sheets, frozen, the best is Pepperidge Farm (don't use filo dough)
1 jar sour cherries
2 tbsp potato starch
1 package vanilla pudding – Go to: How to make Vanilla Pudding –
½ liter milk
1 egg yolk or 2-3 tbsp milk
2 tbsp heavy cream
powdered sugar for the top
Baking Instructions
– Unfold one of the squares of puff pastry dough.
– Cut down the fold lines to make three strips (use a pizza cutter.) Then cut each strip into thirds. You should have nine squares total.
– Line a cookie sheet with parchment paper.
– Place one square of dough on the parchment, the filling will go in the middle.
– Pull up the corners of the dough and pinch together at the top. It's ok if the filling is still showing on the sides – see filling instructions below.
– Repeat for the remaining squares.
Repeat the process for the second sheet of puff pastry.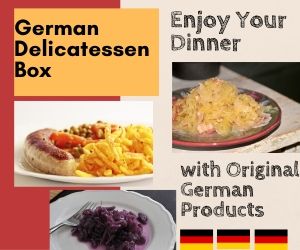 Make the Filling
– Drain cherries but keep the liquid.
– Mix starch well with 4 tbsp of the liquid.
– Mix remaining liquid with sugar in a pan, add starch and bring it to a boil while while stirring. Add cherries, then set aside.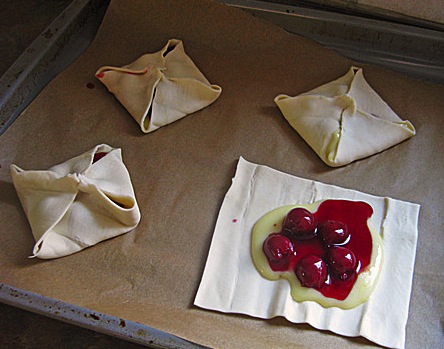 – Mix pudding powder with 6 tbsp milk; bring remaining milk and sugar to a boil, add pudding powder and bring again to a boil.
– In the middle of each pastry place pudding and on top add 1 tbsp of cherries.
– Mix egg yolk with heavy cream and brush it on the dough.
– Bake in pre-heated oven for 15-20 minutes on  375 F.
– Let them cool off then dust them with powdered sugar.
Serve them with whipped cream or vanilla ice cream or enjoy them just as they are.
---