German apricot jam is a special jam! Making jam is always some work, yes, but the result will reward you. There is nothing better than home made jam. You can smell and taste the fruit, there is no other jam to compare with. I had the chance this year to pick apricots from a tree that is growing in the front yard of my friends home, and these apricots where the best apricots I ever had. So is the jam – just delicious. One important thing: The apricots need to be ripe! That is a must. If they are not ripe you won't be able to peel them, and this is necessary. If you have time and passion for home made foodies, try this German recipe. Happy Cooking!
Ingredients German Apricot Jam
(makes 3 jars)
1kg apricots, ripe and fresh (makes 375 g fruit)
375 g German Gelierzucker or organic sugar and fruit pectin- Find German Gelierzucker here: Dr. Oetker Gelierzucker 500g – Gelling Sugar 17.6oz
Some drops almond flavored baking oil (Bittermandeloel) or orange flavor
– Find German Bittermandel oil here: Dr. Oetker Bitter -Almond Flavoring Essence -4 Pack
–
1 tbsp lemon zest
1 tbsp lemon mint
Cooking Instructions German Apricot Jam
Preparation
Before you start sanitize the jars – I use my dish washer. But you also can bring water in a big pot to a boil and place the jars in the water. Then place them upside down on a clean kitchen cloth and let them dry.
– Place apricots in a bowl and pour boiling water over them. Let them soak for 5 minutes. Then drain the water and pour cold water over them so the skin can be taken off easily with a small kitchen knife. That's why ripe apricots are the best, you can peel them easily.
– Cut them in half, remove pit.
– Weigh the fruit so you get 750g, place it into a large kitchen pan.
– Add sugar then puree with a stick mixer.
– Bring the fruit to  a boil and from that point on let it boil for 4 minutes, or longer, depending what sugar you are using. Always make the test if the jam is becoming thicker: Place some jam on a spoon and wait until it has cooled off. If it has the desired thickness it is finished.
If you like add a shot dark rum to the hot fruit.
– Pour the jam right away into the prepared jars – remove foam with  a big spoon if necessary.
– Place jars for 1-2 minutes upside down (onto the lid), this seals them. Then turn them into the right position again.
PREPARE JARS
Use your dish washer and the sanitize program, or
– Rinse them with boiling water and place them upside down on a clean kitchen cloth, or
– Place jars and lids in the oven on a baking tray, heat them up to 225 F, then turn off. Remove from oven.
After the jam is in the jars, turn the jars upside down for 1 minute, this will seal the jar.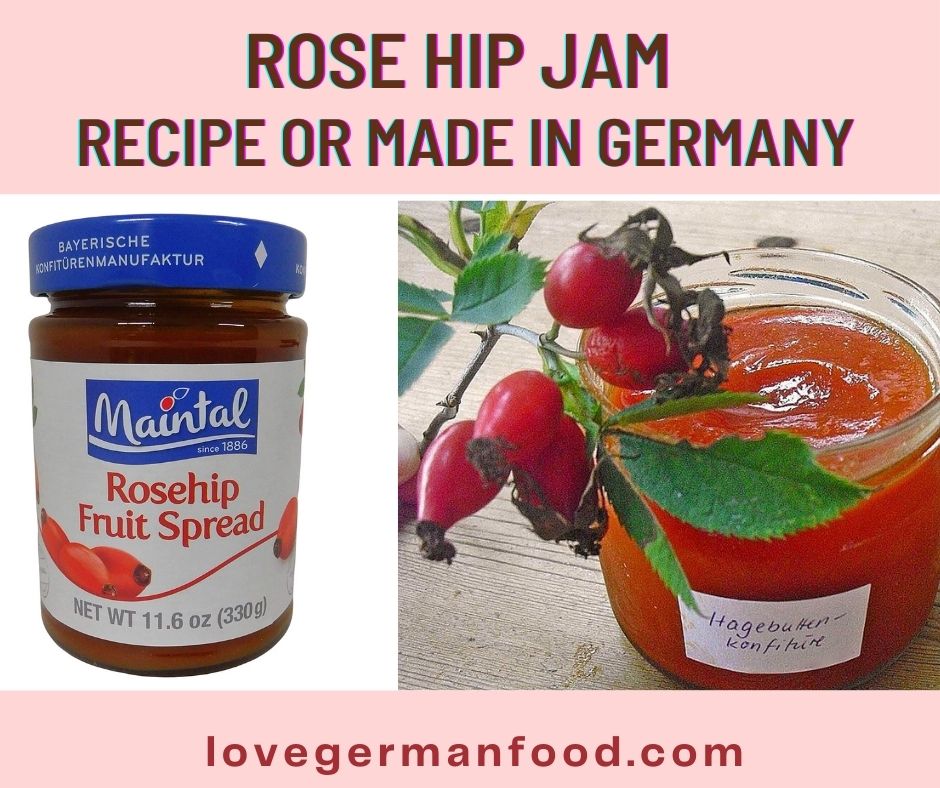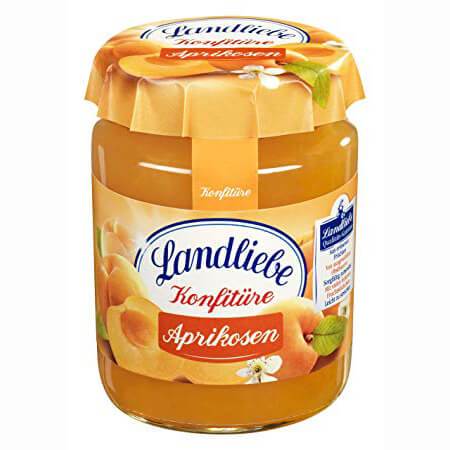 RECIPE FOR ROSE HIP JAM