German Red Cabbage, or in German "Rotkohl" (some say also "Blaukraut"), is a great side dish. It goes very well with German Beef Rouladen and mashed potatoes which is a very traditional combination. You can find German red cabbage on every festive menu, in every good restaurant and inn that serve home made dishes.
Red Cabbage is part of a holiday lunch or diner. It also is makes a perfect winter dish, and the cabbage tastes even better when reheated the next day, without losing its good taste. Try it out and if you really don't have too much time, you can buy it in the jar or pouch, and just heat it up. Add a bit of red wine and it is ready. Happy Cooking!
Ingredients German Red Cabbage
1 small to medium red cabbage – 2lb
1-2 tbsp clarified butter – if you like you also can use lard or expeller pressed coconut oil
1 medium sized onion and 1 medium sized apple
1 tbsp sugar (or to taste or less)
3 tbsp red wine vinegar and 3 tbsp red wine (dry) – or to taste
salt, pepper to taste
1 bay leave
3 cloves (placed in a cooking pouch)
250 ml hot water
Cooking Instructions
– Remove outside leaves, cut it in quarters and remove the stalk.
– Grate or cut in fine stripes.
– Peel onion and chop fine. Peel apple, remove core, then cut in cubes.
– In a bigger pot heat clarified butter.
– Add onions and apples,
– Saute for 1-2 min.
– Combine with red cabbage, bring to a boil, reduce heat.
– Add vinegar, red wine, bay leave and spices.
– Fill up with water, let cook for at least 1-1.5 hours.
Find Red Cabbage in the German Delicatessen Box!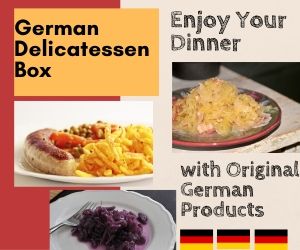 Red cabbage tastes for some reason better the next day, like any cabbage dishes do. You can make it the evening before and let it simmer for another 15-20 minutes the next day before you serve it. Some say it even tastes better when reheated twice – I agree it does – even three times!
Find the classic German red cabbage in the jar at Big Lots, Aldi, Cost Plus or international supermarkets. Amazon has it too! But it tastes the best home made. All the commercial products are too sweet for my taste.
---