Classic German Recipe: The German Jaegerschnitzel Hunter style is as popular as the Wiener Schnitzel. There are TWO variations:
Classic variation is using veal that will be pan fried – FIND THE RECIPE HERE –
Wiener Schnitzel variation – Same proceeding with egg, bread crumbs, and flour but served with the gravy
In Germany you can order the Jägerschnitzel  in every country inn. This part I miss the most, and you are lucky if you have a German restaurant nearby. Today we show you the Wiener Schnitzel variation. This is an authentic German recipe we found for you, so you can have your German comfort food wherever you are. You can make it at home and bring some German taste on your table. Happy Cooking!
Ingredients German Jaegerschnitzel Hunter Style
For the Gravy
500 g fresh mushrooms, white
100 g bacon (German Speck), cut in fine cubes, optional
1 small onion, chopped
1-2 tbsp butter or clarified butter
200ml vegetable broth (instant) – How to make Vegetable Broth from Scratch –
1 tsp tomato paste
200 ml heavy cream
1/2 tsp thyme, dried, optional
3 tbsp chopped parsley
salt, pepper to taste
a dash of nutmeg
Schnitzel
4 pork schnitzel
flour, 2 egg yolks, bread crumbs (natural, no spices)
clarified butter to fry the schnitzel (you also can use butter but it should never getting super hot as it will turn black which will add a burnt taste)
salt, pepper to taste
Cooking Instructions German Jaegerschnitzel Hunter Style
– Wash the meat and pat dry with kitchen paper. With a tenderizer pound the meat so it becomes thin.
– Spice with salt and pepper.
I also add some mild paprika or, even better, use the convenient EDORA Seasoning for Schnitzel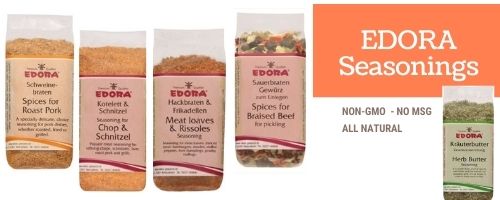 – Turn each slice in flour, followed by beaten eggs and at last in bread crumbs.
– Heat the oil.
– Fry meat slices in a pan until they show a golden brown color evenly on each side.
– Set aside and keep them covered with foil in the oven on a low temperature.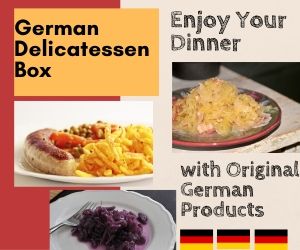 Make the Gravy
– Wash and prepare mushrooms, cut into not so too thin slices or into small cubes.
– In a pan melt butter.
– Saute mushrooms on medium heat for a bout 2 min. You see they are getting smaller and somewhat transparent. Remove from pan right away.
– Cut bacon in very fine cubes.
– Chop onion fine.
– Fry onions and bacon until onions are slightly brown.
– Add tomato paste. Mix well, it may help to add a splash of broth.
– Pour in broth and heavy cream.
– Let simmer on medium heat for 3-4 min. Sauce should have thickened. If it is too thin let it cook longer. We are not adding any starch in this recipe. This is thickening by cooking until cream thickens. Of course you can add corn starch that will be dissolved in cold water.
A Good Substitute is this Mushroom Sauce from Maggi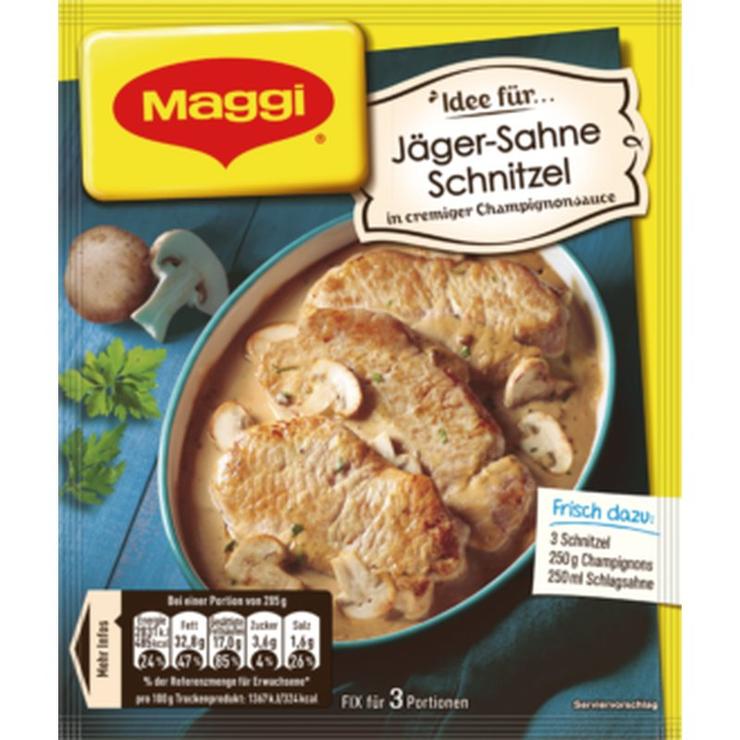 – Spice to taste, add dried thyme. Reduce heat.
– Finally add mushrooms and chopped parsley.
– Keep the sauce warm if you make is before cooking the Schnitzel.
– Place the schnitzel on a plate and pour the sauce over them.
Serve with Spaetzle, French Fries or fried potatoes.
Information for Broth
Should you use instant broth use organic broth. The broth from Knorr USA is not the same as the one you get in Germany. Knorr USA is using chemicals as ingredients, Knorr Germany does not. We think: These chemicals will alter the taste and are not healthy.

Information for Bread Crumbs
Never use spiced breadcrumbs for this dish as they will alter the taste. If you cannot get natural breadcrumbs it's so easy to make them from scratch. Use these bread leftovers and grind them find. That's all. These are the best bread crumbs for breading the Schnitzel.
The video below – it's in German – shows how to make the gravy first followed by the schnitzel making. Even if you don't speak German these steps are easy to follow.
---
---