This summer Tomato Melon Feta Salad is refreshing and of a sweet-sour taste. Tomatoes, melon and feta cheese are the main ingredients for this salad. It is a great salad for the barbecue dinner, a party or event, or serve it with chicken or a burger. Easy to make and so good! Happy Cooking!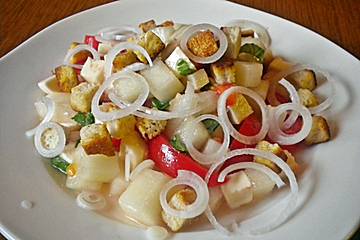 Ingredients Tomato Melon Feta Salad
6 medium size tomatoes
½ ripe honey melon
2 small onions
100 g feta
4 tbsp honey
2 tbsp vegetable oil
2 tbsp Balsamic Vinegar
2 slices toast
salt, pepper to taste
Cooking Instructions Tomato Melon Feta Salad
– Cut tomatoes and honey melon in small pieces.
– Crumble or cut feta cheese in cubes.
– Slice onions very thin.
– Make the dressing: Mix  honey, vinegar, oil, salt, pepper.
– Toast bread first then cut in cubes.
– Place on top of salad.
– Drip some more honey over the salad if needed.