How to cook Kohlrabi? It is a the popular vegetable in Germany, used as a side dish or for soups. Make this German kohlrabi soup that is especially tasty because we add small fried meatballs to the soup! So the soup that is normally a starter, becomes a whole meal. Tastes the best when served with fresh bread and butter.  Happy Cooking!
Ingredients German Kohlrabi Soup
1 kohlrabi
6 medium sized potatoes
2 carrots
1 liter vegetable broth – How to Make Vegetable Broth – 
3 tbsp sour cream
Meatballs
250 g ground beef
1 egg
1-2 tbsp bread crumbs
2-3 tbsp parsley, chopped
2-3 tbsp chives, chopped
clarified butter
pepper, salt, nutmeg to taste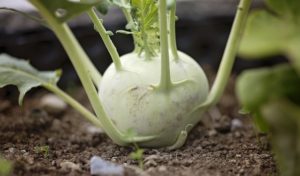 Cooking Instructions German Kohlrabi Soup
– Peel potatoes and kohlrabi.
– Cut kohlrabi and potatoes in small cubes.
– Bring broth to a boil, add potatoes and kohlrabi.
– Let cook for about 15 min.
– Cut carrots in rectangle pieces, cook in a separate pot in some water until they are semi-soft.
– Make the meat balls: Mix meat with egg, breadcrumbs, herbs and spice to taste.
– Form small balls and fry them in a pan in some clarified butter.
– Remove pot from heat, and remove half of the vegetable from the pot and set aside.
– With a stick mixer puree the broth with the vegetable, spice to taste, add sour creme.
– Add the set aside vegetable and the meatballs.
– Heat until it has the right temperature, then serve with some chopped parsley on top.
---
The Best Fried Potatoes with a Long Shelf Life are from Germany!