Posted on November 11, 2012 by admin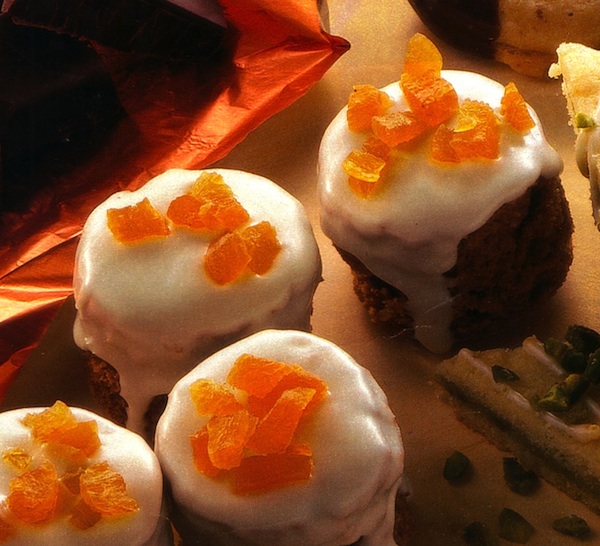 Ingredients (45 pieces)
 German Lebkuchen Brownies
70 g dark chocolate
200 g soft butter
200 g powdered sugar
2 eggs
70 g ground hazelnuts
1 tbsp baking powder, salt
2 tbsp brown rum
2 tbsp lebkuchen spice or all spice  – Edora Lebkuchen Gewurz (Gingerbread Spices) 1 – .05oz Package

250 g flour
2 packages Cake glaze (Kuchenglasur) preferably white but dark one will be ok too
50 g dried apricots
Baking Instructions
 German Lebkuchen Brownies
– Chop chocolate with a knife and melt it by using the double-boiler method.
– Place butter in a big bowl and sieve powdered sugar over it, then by using a hand mixer mix it until foamy.
– Add eggs, chocolate, hazelnuts, baking powder, pinch of salt, rum and spice, mix it until you get a smooth dough.
– Place baking paper on a baking tray and spread the dough on it (about 1,5 cm thick).
– Bake it in preheated oven for 25 minutes on 160 C  or 320 F.
– Take them out and let cool off; with a round cutter cutter cut circles out of the dough; place them on a grid.
– Heat frosting and spread it over the brownies; decorate with apricot pieces when glaze is still wet.
(Source: Essen und Trinken 11/1996)
Related