The German meatloaf classic recipe, or any other meatloaf variation, is very popular in Germany. The meat we use for making the meatloaf in Germany is mostly half pork and half beef. Sometimes if you use only lean beef it can get too dry because this beef has a very low fat content.  You can serve the meatloaf with a gravy or without. Serve the German meatloaf classic with side dishes such as mashed or fried potatoes, pasta and of course a salad or you favorite choice of vegetable. Happy Cooking!
Ingredients German Meatloaf Classic
1 two days old roll or 1-2 slices of any light wheat or French bread (not sourdough)
2 smaller onions
1 tsp mustard
4 tbsp chopped parsley
1 lb  ground meat, half beef and pork or just beef
1 medium size egg
breadcrumbs (unseasoned Panko breadcrumbs could work as well)
salt, pepper, paprika and/or cayenne pepper to taste, 1 dash nutmeg
some butter for the form
Cooking Instructions German Meatloaf Classic
– Cut the rolls in fine slices, place in a bowl and soak in water until the bread is soft. Then press all water out of the rolls before you use them.
– Chop onions fine.
– Place meat into a bowl. Add bread, onions, parsley eggs, mustard and spices.
– Mix very well, knead with hands so all ingredients are blended.
– Grease a fire proof pan with some butter.
– Pre-heat oven to 380 F.
– Form a loaf out of the meat, roll it evenly in bread crumbs.
– Place the loaf in the pan.
– Cook for 50 min on 360 F (convection) or 380 F no convection.
– The meatloaf is done when you see breadcrumbs turn light brown.
---
---
Make the Gravy
If you like to add a gravy here are the steps (especially good with mashed potatoes)
– 1/8 liter (1/2 cup) broth, can be instant (vegetable or beef broth)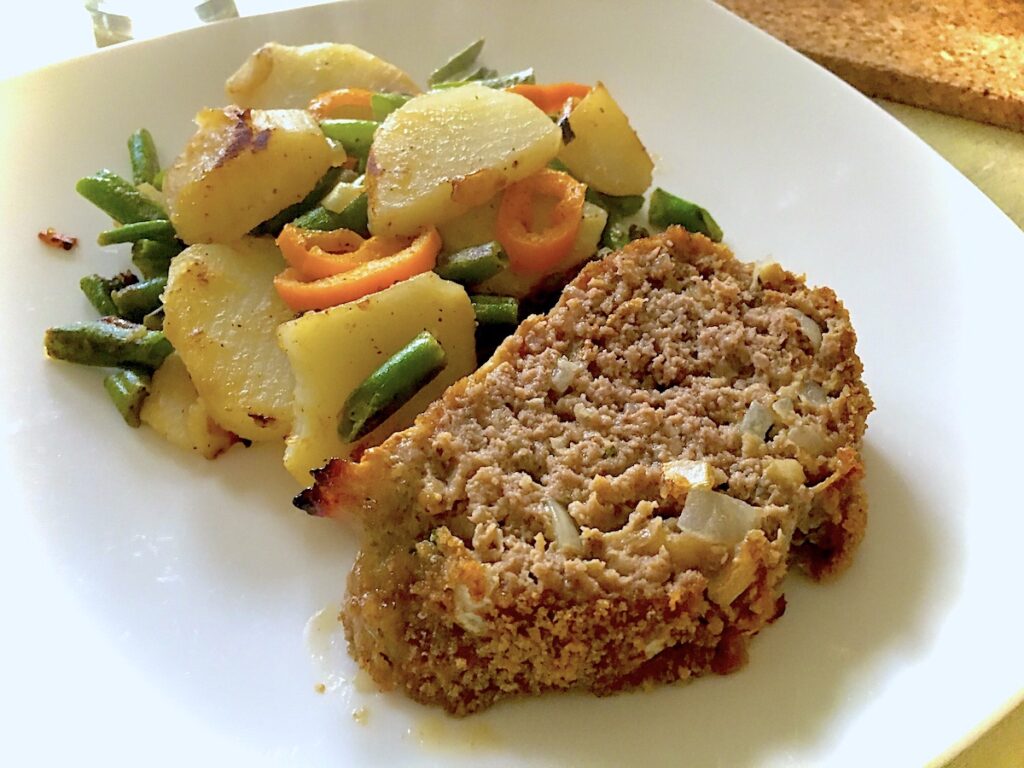 RECIPES For BROTH:
– How to Make Vegetable Broth –
– How to Make Beef Broth –

– 1/8 liter (1/2 cup) heavy cream
– 1 tbsp sour cream or creme fraiche
– 1 tsp sweet, mild paprika powder
Instructions
– Heat the broth, mix with heavy cream, creme fraiche and paprika (double the amount if you need more gravy).
– Let simmer for 15 min to thicken the liquid.
– You also can pour the gravy over the meatloaf 15 min before cooking time ends.
---