Posted on November 17, 2012 by admin
Make a German Nikolaus Cookie that looks like the Santa Claus, in German Nikolaus!  These are great cookies for the traditional German Nikolaus Day or in general for the holidays. They are a nice gift if wrapped in transparent paper and wrapped with a bow. You can be creative in making these. Children will love it. Happy Baking!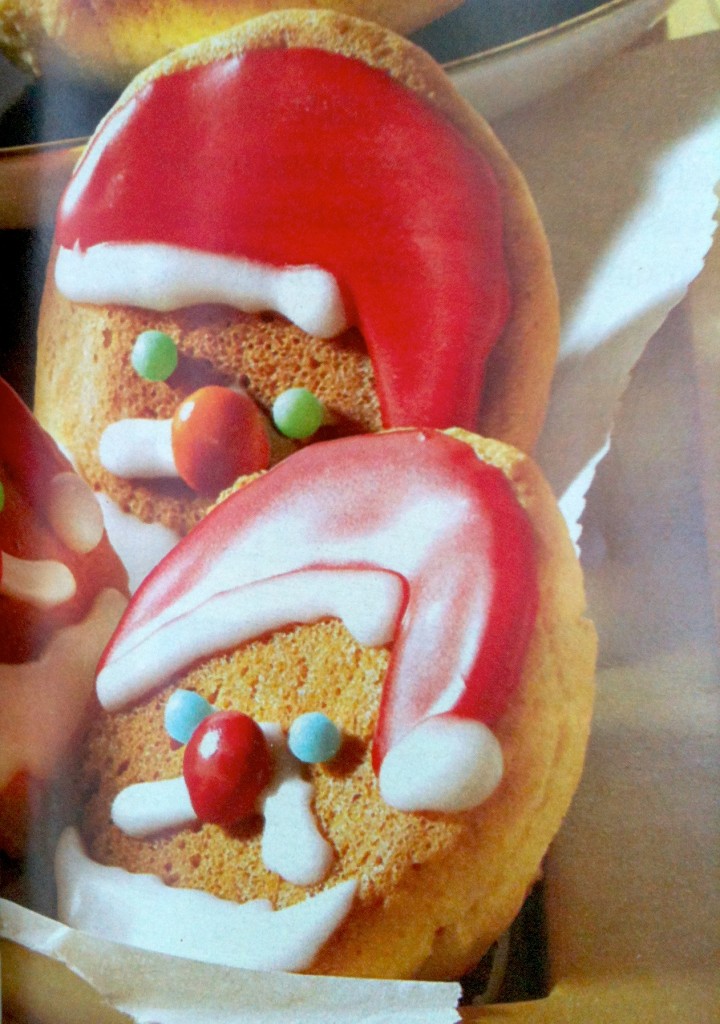 Ingredients German Nikolaus Cookie (30 cookies)
100 g butter
300 g powdered sugar
1 package vanilla sugar
1 pinch salt
2 eggs medium
200 g flour
1 package vanilla pudding (for 1/2l milk) Dr Oetker: Dr. Oetker Vanilla Pudding 3 Pack

3 tbsp baking powder
3 tbsp milk
1 egg white
red eatable color – Find it here: Mccormick Food Coloring, Red, 16-Ounce

sugar pearls and mini chocolates for decoration – Find them here: CK Products 7-Mm Candy Beads, Powder Blue
CK Products Sugar Pearls – Rainbow
Baking Instructions German Nikolaus Cookie
– Mix butter, 100 g sugar vanilla sugar and salt until creamy.
– Add eggs one after the other.
– Mix flour with pudding powder and add alternating with the milk.
– In using 2 teaspoons place about 30 heaps of dough on 2 baking trays layered with baking paper.
– Bake them on 200 C or 375 F for 10-12 minutes; let them cool off.
– Mix 200 g powdered sugar with the egg white, take one half of the glaze and add red color to it.
– Fill the white and red glaze in 2 separate decorating bags and spread on the flat side of the cookie with the white glaze a the beard and white part of the hat. With the red glaze make the hats and if you like the nose, or use M&Ms for the nose. Use blue sugar pearls for the eyes.
– Let them dry on a baking grid.
Related