Surprise your mom with this German Raspberry layered cake. It's a wonderful cake for any other celebrations such as birthdays, anniversaries or the holidays. It is possible to vary the cake with strawberries if you like. The cream that is used for the filling is light and easy to make. You can make a heart shaped or regular cake. Try it out, I am sure you will love this cake. It's an original and proven German recipe. Happy Baking!
Ingredients German Raspberry Layered Cake
Base Cake
100 g soft butter
100 g sugar
2 eggs
75 g flour
1 package vanilla pudding Dr. Oetker 1.5 oz (or cornstarch and vanilla extract)
– How to make Vanilla Pudding –
2 tsp baking powder Dr Oetker
2 tbsp milk
Filling
250 ml water
1 package German cake glaze, red (Tortenguss)
2 tbsp sugar
250g raspberries
Cream
2 cups raspberry yogurt, 5.3 oz each or 150g – should have less sugar, alternatively mix natural yogurt with some raspberries, no sugar added.
2 Tbsp raspberry jam
1 package gelatin (ground) 0.32oz
300 g heavy cream
100 g whipped cream and raspberries to decorate
Baking Instructions
– If you have a heart shaped baking form grease it with butter and place in the fridge. You also can use a regular round spring form. It should be good to fill 1 liter of liquid, so a 9 inch diameter form can work. Fill one liter of water into your form and check if the form is too big or too small.
– Pre-heat oven to 200 C or 390 F.
– Beat butter until bubbly, then add one egg after the other.
– Mix flour with pudding powder and add alternating with milk to the dough.
– Place into form and bake for 15-20 min.
– Make the cake glaze per instructions and add raspberries, mix carefully. You can use corn starch with red fruit juice and some sugar to make the glaze from scratch – More Info here ….
– Cut the base cake horizontally; spread raspberry filling on the lower part. Let cool off a bit.
– Soak gelatin in cold water.
– Combine yogurt with jam.
– When gelatin is dissolved add 2-3 tbsp yogurt, then add all gelatin to the yogurt cream.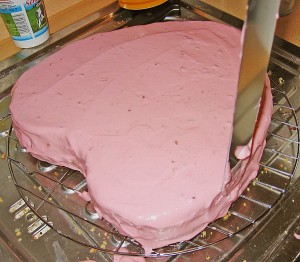 – Beat all heavy cream until firm, keep some for the decoration and fill in a frosting bag and place in fridge.
– Add remaining whipped cream to the raspberry cream.
– Place upper part of base cake onto the lower part and spread with a wide decorating knife the cream all around the cake.
– Decorate the top with whipped cream and raspberries.
Instead of raspberries you also can use strawberries.
---
  
Source: Chefkoch.de