Mother's Day is a big day in Germany the same way as it is celebrated in the USA. Do you want to surprise your mom, sister, grandmother, or  aunt with something special? What about a home made cake baked by you? We found a wonderful recipe for you.
The German Raspberry Heart Shaped Cake will make your mom smile. It is a delicious and authentic German cake. Happy Baking!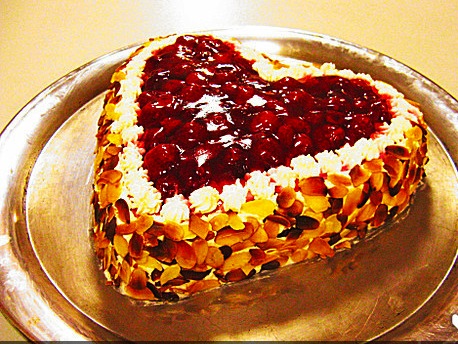 Ingredients Raspberry Heart Shaped Cake for Mother's Day
3 eggs
150 g sugar
1 dash salt
100 g flour
1 Tbsp baking powder, Dr Oetker
6 sheets gelatin
400 g frozen raspberries
200 g creme fraîche
400 ml heavy cream
1 package cake glaze Dr. Oetker, red
100 g roasted almond slices
Baking Instructions Raspberry Heart Shaped Cake for Mother's Day
– Pre-heat oven to 175 degrees C or 350 F.
– Grease the bottom of a baking form (round or heart shaped).
– Separate eggs, beat the egg white until firm.
– Mix egg yolks with 90 g sugar and the salt; beat until foamy using the double boiler method.
– Carefully mix in the firm egg white. Mix baking powder with flour and powder it over the egg mix and mix it carefully.
– Fill the dough into the form and bake it for 30 minutes.
– Let the biscuit cake cool off for 5 minutes then take it out of the form and place it on a baking grid, let it cool off completely, then cut it horizontal in 2 halves.
Filling
– Soak gelatin, defrost berries.
– Make the berry cream: Mix 200 g of the berries with 60 g sugar; puree them with a stick mixer or press through a sieve.
– Add creme fraiche and mix with a wooden spoon.
– Press all water out of the gelatin and combine with the berries.
– Beat heavy cream until firm.
– Before the berry cream gets firm fold in the whipped cream, mix well.
– Spread half of the cream on the lower heart piece.
– Place second part on top and spread remaining cream over it.
– Add remaining raspberries on top and keep an edge of 1 inch (2cm).
– Make the cake glaze per instructions and pour it while hot over the berries.
– Beat remaining heavy cream until firm and spread 2 third of it it around the outer edges of the cake where you would place the almond slices.edges.
– Fill  remaining cream into a frosting bag and squeeze little frames in the 2cm (1 inch) wide edge around the raspberries.
– Decorate the edges with almond slices that can be toasted or not.