Learn today how to make the German Rhineland Sauerbraten. Some preparation time is needed because you need somewhat unusual ingredients for this dish:
1. Apple Butter or Applekraut (Apfelkraut):
It is a highly concentrated form of apple sauce produced by long, slow cooking of apples with cider or water to a point where the sugar in the apples caramelizes, turning the apple butter a deep brown. The concentration of sugar gives apple butter a much longer shelf life as a preserve than apple sauce. It is a Rhineland food specialty.
Find the Aachener Printen on LoveGermanFood.com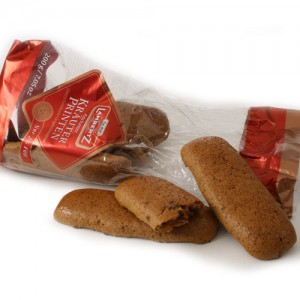 2. Aachener Printen:
This is a famous German Christmas cookie from the German city of Aachen, for this recipe you would use the so called "Kräuterprinten" – a specially spiced ginger bread – Find more info and the Aachener Printen Recipe here – The Printen are important for this recipe as they will be used for the gravy.
Ingredients German Rhineland Sauerbraten
1 kg roast beef (cut from the rump or the bottom round)
2 med size onions
1 tbsp black pepper corns
2 tbsp mustard seeds
1 tbsp salt and 1 tbsp sugar
5 bay leaves
7 cloves
Soup vegetable: 1 carrot, celery leaves or, 1 leek, some parsley, 1/4 small celery root
700 ml red wine vinegar and 700 ml water
1 cup raisins
3 tbsp apple butter (Apfelkraut)
3 tbsp red currant jam
4 Lebkuchen or Aachener Kräuterprinten (spiced gingerbread cookies, see below)
pepper, salt to taste
1-2 tbsp clarified butter, lard or cooking oil
Cooking Instructions German Rhineland Sauerbraten
Make the Marinade 
– Use a big pot and add vinegar, water, cloves, mustard seeds, pepper corns, and sliced onions.
– Chop the soup vegetable coarsely and add it as well.
– Bring to a boil, let boil for 5 min.
– Let cool off.
– Wash the beef briefly, and pat dry with kitchen paper.
– Place it in a glass or ceramic bowl (not a metallic bowl) together with the marinade, cover with foil and let sit for at lest 3 days. The meat should be completely covered with liquid. Keep it in the fridge.
– Turn the meat after 1.5 days.
– After 3 days remove the meat, pat it dry, sieve the liquid and keep it for the gravy (important!). You can discard vegetable.
Roast the Beef
– In a big pan heat clarified butter on high heat and brown the meat briefly from all sides. Pour half of the marinade over the meat, this makes a great gravy.
– Chop the gingerbread cookies, combine  with red currant jam, apple butter and raisins, then place around the meat.
– Let the meat simmer on low temperature for at least 2 hours, covered with a lid (exact cooking time depends on the meat). It's done when the meat is very tender and soft.
– Should the gravy be too thin you can add heavy cream, or mix 1 tbsp corn starch with cold water and add to the gravy (thickens the gravy). But usually the gravy has the right thickness.
– Place the Sauerbraten on a warm plate and slice it.
Serve with red cabbage, potato dumplings, mashed potatoes or Spaetzle.
Notes
Some recipes require that the meat is in the marinade for 3 weeks. If you marinade it for 3 weeks the cooking time will be less.
If you cannot get the Aachener Printen you can also use gingerbread Lebkuchen but it might be a different taste.
Instead of water and vinegar use 0.75 l red wine and 0.5 l raspberry vinegar.
Bonne Maman has the best red currant jelly and you can find it in many US super markets. It has to be jelly. Don't use jam.
---
  
Source Photo Flickr User julie corsi