The German Vegetable soup is a wonderful soup for a festive menu or just as a main dish with some sausages. You can use seasonal vegetable as it is growing in your garden or fresh from the farmers market. During the winter months add the typical winter veggies such as cabbage, potatoes, savory cabbage, leek or carrots.
This soup could also be called "Eintopf" in German as all ingredients cook in one pan. If you like you can puree the soup and add some heavy cream. Happy Cooking!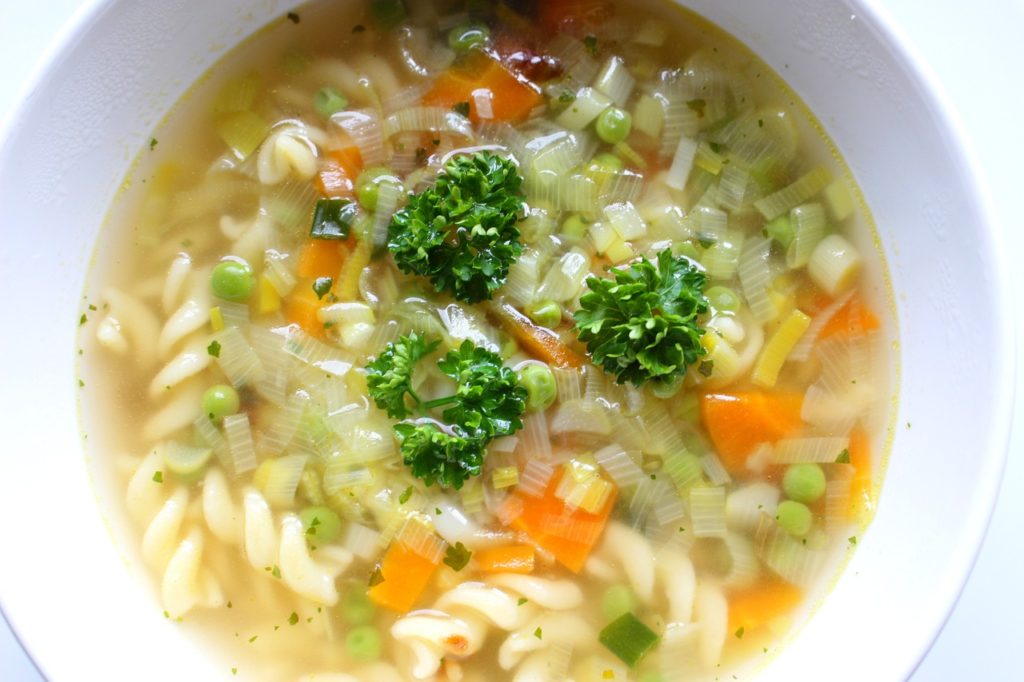 Ingredients German Vegetable Soup
5 medium sized potatoes
1 medium sized onion
4 medium sized carrots
3 tbsp chopped parsley
4 tbsp peas, fresh or frozen
1 small cauliflower
1 small green pepper
2 tbsp celery cubes
butter or clarified butter
purified water
instant broth (optional)
salt, pepper, nutmeg to taste
pasta of your choice
Sometimes I don't want to cook – I just want some soup!
Cooking Instructions German Vegetable Soup
– Peel potatoes and carrots, cut them in cubes.
– Cut celery and green pepper in cubes; chop onion; cut cauliflowers in small pieces.
– In a large pan melt butter, and saute onions until transparent.
– Add the chopped vegetable and parsley, and fill the pot with enough purified water (vegetable should be covered); add instant broth if you like.
– Bring to a boil, then let simmer for 20-30 minutes or until the vegetable is soft but not over-cooked.
– Add the pasta and the peas 5 min before the soup is done.
In general: Vegetable with less cooking time should be added 5-10 min before the soup is done like peas, zucchini, mushrooms.
– OPTIONAL:  If you like you can puree the soup with a stick mixer. Add 2 tbsp of heavy cream.