The Italian dish Gorgonzola Blue Cheese Tortellini is an Italian inspired dish that is also very popular in Germany. The recipe is very simple and is perfect for someone who likes a good home made meal that does not take hours to prepare. Tortellini come with different fillings like spinach, cheese, ham and many more. Tortellini can be purchased dry, packaged or fresh. We recommend to use the packaged or fresh ones. Happy Cooking!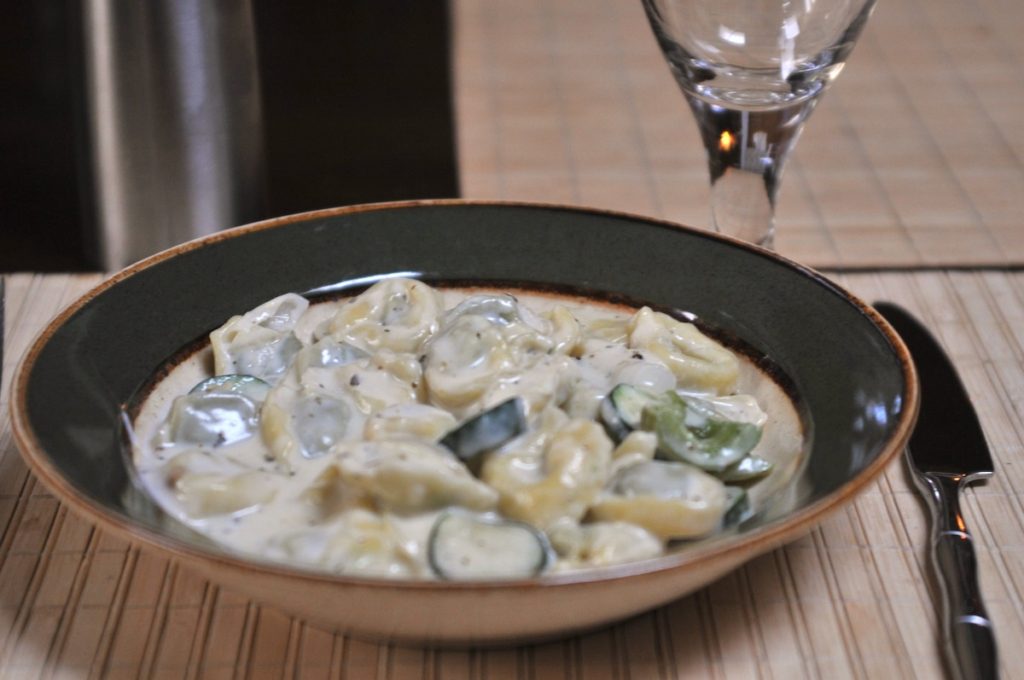 Ingredients  Gorgonzola Blue Cheese Tortellini
(serves 4)
20 oz, 1 package tortellini of your choice (for this recipe we used tortellini with spinach filling)
1 tbsp olive oil and 1tbsp butter
2 small onions
1/2 green pepper (or red, yellow)
3 small zucchini
1/4 cup heavy cream and 1/4 cup whole milk or half and half
2 tsp tapioca or corn starch
3-4 tbsp crumbled blue cheese (or Rochefort or  Gorgonzola cheese)
Cooking Instructions Gorgonzola Blue Cheese Tortellini
– Cook tortellini per instructions.
– In a skillet heat olive oil and butter; chop onions, pepper, slice zucchini; saute them for 5 minutes on medium heat in the hot oil-butter mix.
Make the Sauce
– Mix heavy cream and milk, add tapioca; whisk it very well so all tapioca gets dissolved.
– Add tortellini to the vegetable.
– Pour the cream-milk mix over it and let it simmer for 2 minutes.
– Add crumbled cheese to the tortellini.
– If the sauce is still too liquid, add some more starch.
Serve with lettuce.