Cake and pastries with plums are super popular in Germany because Italian plums or "Zwetschgen" are practically everywhere to find. Unfortunately not in the USA. So if you can get these Italian plums I found an irresistible cake for you: The Italian Plum Marzipan cake or Zwetschgen-Marzipan Torte, It's a layered cake with a delicious marzipan sour cream layer. It takes about 1.5 hours of your time to make this cake. Happy Baking
Ingredients Italian Plum Marzipan Cake
(1 cake with 16 servings)
ASE CAKE
125 g butter, very soft
175 g sugar
2 packages Vanilla sugar
200 g marzipan, raw for baking
3 eggs
1/2 package baking powder
FILLING
425 ml heavy cream
750 g Italian plums (Zwetschgen)
1 organic lemon
250 ml tart cherry juice, unsweetened
1 cinnamon stick
1/2 package vanilla pudding for 250ml milk
250 g sour cream
1 package whip it, optional
almond slice, about 75g
cinnamon ground
frosting bag with star nozzle
springform 10 inch diameter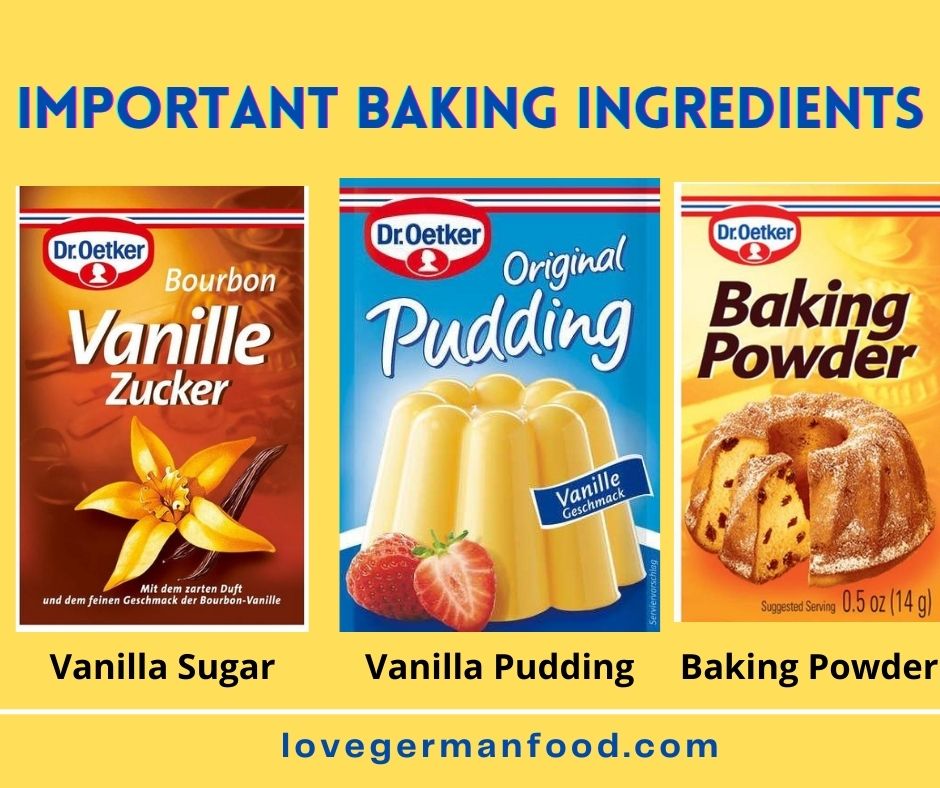 Baking Instructions Italian Plum Marzipan Cake
Make the Base Cake
– Pre-heat oven to 150 C / 300 F convection (350 F reg. oven)
– Combine butter with 75 g sugar, 1 pack. vanilla sugar and salt, mix well until it's bubbly.
– Add 100 g grated marzipan and eggs.
– Mix flour with baking powder, add to the dough with 50ml heavy cream. Mix well.
– Grease springform 10 inches (26cm) and dust with flour.
– Pour dough into springform.
– Bake for 20 min.
– Release from form, let cool off.
Make the Filling
– Set aside 3-4 plums. Remove pit from all plums.
– Peel off lemon peel, press lemon.
– In a pan combine plums with lemon peel and lemon juice, 200ml tart cherry juice, 75 g sugar and cinnamon stick.
– Bring to a boil and let 1 min simmer.
– Drain plums, set aside and keep the juice.
– Pour into a pan 375ml juice.
– Mix the pudding powder with 5 tbsp liquid, add to the juice, then the plums (this makes the compote). Let cool off.
– Cut base cake one time horizontally. Place a cake ring around the bottom part.
– Add plum compote on top, let cool off.
– Marzipan cream: Grate 100 g marzipan. Combine with sour cream and 25 g sugar. Mix until it's creamy.
– Combine 250 ml heavy cream with whip it and beat until firm. Add to the marzipan cream.
– Spread the marzipan cream on top of the compote.
– Place second part of base cake on top.
– Keep in fridge for 1-2 hours.
---
The Best Coffee for your Home Made German Cakes!

---
– In a pan without grease roast the almonds but don't let them get hot, they will become bitter.
– Cut remaining plums in thin slices.
– Combine 175ml heavy cream with 1 pack, vanilla sugar and beat until firm.
– 1/3rd of the whipped cream goes into a frosting bag with star nozzle.
– Release cake from cake ring and spread remaining whipped cream on top and all around.
– Sprinkle with the almond slices and cinnamon.
– Squirt little tuffs with whipped cream on every slice (16 times).
– Place on each tuff 1 or 2 plum slices.
---