The Marble Gugelhupf  Cake is a classic German cake – Gugelhupf in English would mean Bundt Cake. For this cake you use the special Gugelhupf form which can be purchased in the USA. The ingredients are well mixed together and removing from the form is easy when you grease the form very well, and sprinkle with flour or breadcrumbs. Please wait until the cake has cooled off completely; I know this is difficult ;).
Try it out, you will like this classic German cake. Happy Baking!
Ingredients Marble Gugelhupf Cake
250 g Butter
250 g sugar
1 Package Vanilla sugar Dr. Oetker 0.3oz – OR How to make Vanilla Sugar –
5 eggs
1 dash salt
1/8 liter milk
375 g flour
1 package baking powder. Dr. Oetker 0.5oz
3-4 tsp cocoa powder, unsweetened
1 tsp vanilla extract
butter, flour or breadcrumbs for the form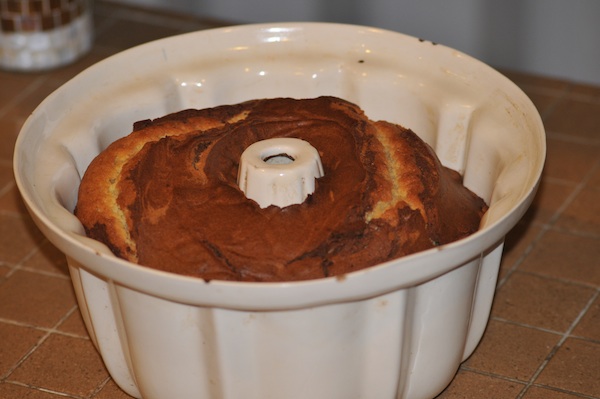 Baking Instructions Marble Gugelhupf Cake
– Mix butter and sugar, add eggs.
– Mix baking powder with flour and salt, then add to dough.
– Add vanilla and milk.
– Grease a Gugelhupf form thoroughly (sprinkle all around with breadcrumbs or flour, that helps to release the cake out of the form); if you use  a non-stick form, you don't need to grease it.
– Add half of the dough into the form.
– Mix remaining dough with cocoa powder.
– Pre-heat oven to 375 F.
– Place cocoa dough on top of the other dough.
– With a knife or fork go through the cake several times to create a marble pattern.
– Bake in pre-heated oven on 375 F for 60 minutes.
– Let cool off, take out of form and dust with powdered sugar.
---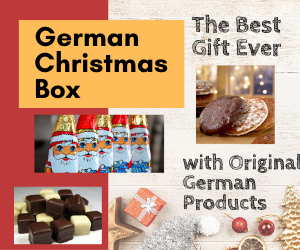 ---
Do the test with a needle or knife: Poke into the cake to check if it is done. If the needle is still sticky, the cake is not done.
---
You can also use this special German cake form: