The Panna Cotta Dessert is not really a German dish, it's origin is Italian. Nevertheless it has become a very popular dessert in Germany and also in the USA. That's why we would like to add it to our recipe collection. We are sure you will love it!
Some interesting History for this dessert: Panna Cotta is known since the 10th century and comes from the region Piemont, Italy. It is been said that a lady of Hungarian provenience came up with the recipe.
Note: Sheet gelatin is like granular gelatin. It is used a lot in Germany as it dissolves slower then granulated or powdered gelatin. On top it produces a clearer gelled product. We recommend to use gelatin sheets for this dessert.
The German gelatin from Dr. Oetker comes in a packet of 6 sheets, which is 10 grams/0.33 oz, sufficient for 2 cups/500 ml of liquid (it is gluten free). If you want to use gelatin granules use the measure recommendations as described. Alternatively you can use Agra-Agra which is a gelatin made from seaweed.
If you cannot use milk, use almond milk which works very well as an alternative.  Important is to use vanilla beans and not an artificial substitute. Happy Cooking!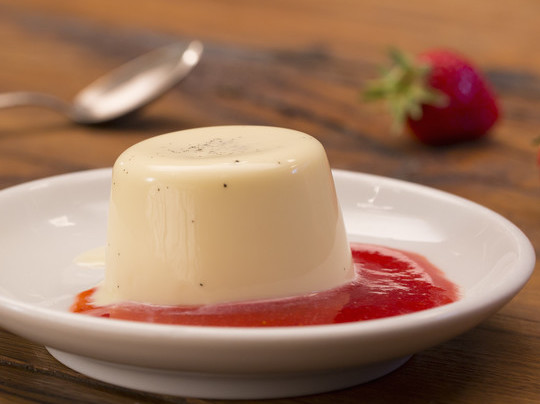 Ingredients Panna Cotta Dessert
400 g heavy cream
1 vanilla bean
50 g sugar
3 sheets gelatin, white
Sauce
400 g strawberries
50 g sugar
Cooking Instructions Panna Cotta Dessert
Slice the vanilla bean, combine with heavy cream and sugar in a pan.
Bring to a brief boil. Let simmer for about 15 min.
Soak gelatin.
Remove vanilla bean from the milk.
Mix gelatin with heavy cream.
Rinse forms with cold water, fill each form with the cream.
Place in fridge for at least 2 hours so the cream can get firm.
Sauce
– Clean strawberries, remove the green part. Cut in halves.
– Add sugar and puree with a stick mixer.
– Squeeze puree through a  sieve.
When Panna Cotta is firm remove from the forms and serve with the strawberry sauce.