This is a recipe for authentic German stuffed cabbage rolls which we call Krautwickel or Kohlrouladen in Germany. Cabbage is used since a long time because it is rich of Vitamin C. It used to be an important vegetable during the winter months because of its nutrients and the long shelf life.

How did this Dish come About?
In general vegetable was always used mainly as a side dish, but to use it as a main dish, clever house wives came up with a neat trick: They filled it with meat and bacon.
You can serve the stuffed cabbage rolls in a light or brown gravy. For the light gravy use heavy cream and/or some cornstarch. Find a recipe below to make a dark gravy. If you use packaged gravy make sure it won't contain monosodium glutamate which is an artificial flavor enhancer. We found out that the Knorr products made in the USA contain it but the German ones don't. Try these delicious stuffed cabbage rolls, you will love them. Happy Cooking!
Ingredients Stuffed Cabbage Rolls
1 small-medium sized whole cabbage, removed core
100 g Speck or Bacon in cubes
1 medium onion,  chopped
500 g ground beef (or half pork and half beef)
1 egg
4 tbsp uncooked rice
2 tbsp parsley, chopped
1 roll or 1 slice 1-2 day old bread, soaked in water
500ml instant broth and water to make the broth
salt, paprika powder mild, pepper to taste
oil for frying
Gravy
1/2 cup heavy cream
2 tomatoes (optional)
2-3 tbsp white wine or sherry
---
The best German seasonings from Edora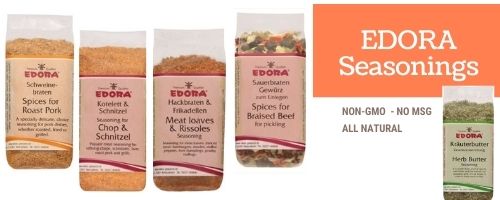 ---
Cooking Instructions Stuffed Cabbage Rolls
Makes about 7-10 rolls
– Take the whole cabbage and place it in a pot with enough water and let it boil for 5-10 minutes.
– Remove from water. Remove the first leaves and place them into a wide enough bowl with cold water. Repeat until you have enough leaves for the rolls.
– Soak bread/rolls in warm water, squeeze out the water very well.
– Combine meat with chopped onions, rice, egg, parsley, bread and spices.
– Place the cabbage leaves on a clean kitchen cloth.
– Put another cloth on top and with a heavy pot or pan flatten them carefully (they should not break).
– Place about 2 tbsp of the filling on each leave and form rolls.
– Fold cabbage ends towards the inside so the rolls are closed.
– Use tooth picks to fix it. You also can use yarn to wrap each roll.
– In a big pan heat the oil with the Speck cubes, and brown rolls briefly on all sides.
– Add the broth, so all rolls are nicely covered.
– Cook rolls or about 30 min.
– Check that there is always enough liquid in the pan.
– 15 minutes before the rolls are done add the chopped tomatoes to the broth (if you use them).
– When rolls are done remove them with a slotted spoon.
– Set aside in the oven (keep them warm).
Make the Gravy
– Use 150 ml of the stock and 150 ml heavy cream, combine it and bring to a boil, spice with salt and pepper as needed. Let cook until thickened and/or add 1 tsp corn starch.
– You also can add some sherry or white fine for some defined taste.
– Serve rolls with gravy and boiled potatoes.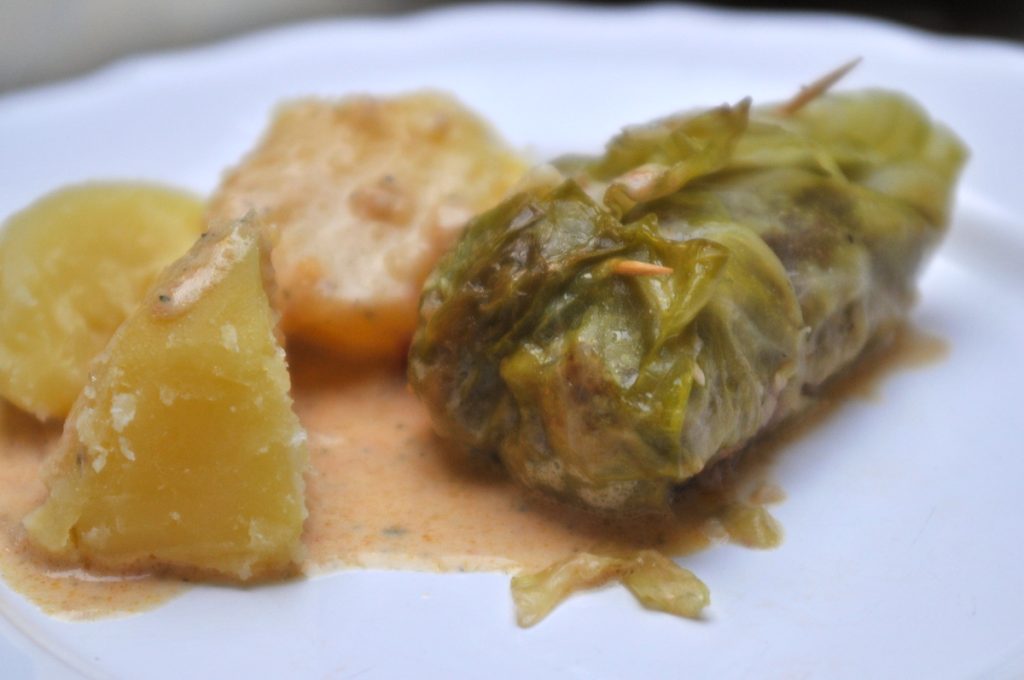 Go to The RECIPE FOR A HOME MADE DARK GRAVY
---
Tips
When buying the cabbage watch out for bad spots on the cabbage. The cabbage should be solid and not soft.
Cabbage stays fresh in the fridge for 1-2 weeks.
---
For a Dark Gravy