Germany has some special Easter specialties, and one is the Easter Sweet Bread Wreath. It is decorated  with three hard boiled and colored eggs, and makes a great sweet bread for the Easter table. Easter is the time for good food, like lamb, cakes and ham, egg hunts and chocolate in form of eggs and rabbits. Now in 2020 Easter might be not like every year, still we are able to make these nice Easter dishes. Happy Baking!
Ingredients Easter Sweet Bread Wreath
950 g flour
42 g fresh yeast or dry yeast
100 g sugar
1 dash salt
400 ml milk (semi-warm)
115 g butter, melted
4 eggs
3 hard boiled and colored eggs
---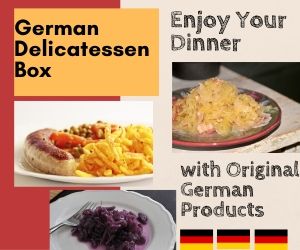 ---
Cooking Instructions
– Place flour into a bowl, form a mold in the middle.
– Mix yeast with some sugar and warm milk, pour into the mold, and mix with some flour.
– Add remaining sugar, salt, milk and 3 eggs.
– Knead until you get a smooth dough (not sticky or firm); maybe you need to use some more milk.
– Place dough on a baking board with some flour and knead for about 6-8 minutes, place back into the bowl, cover it with a slightly moistened fabric and let raise for 1 hour until volume has doubled.
– Meanwhile take a card board roll like from an empty kitchen paper roll, cut it in 3 pieces and wrap them with aluminum foil. This is for creating the space for the hard boiled eggs.
– Place parchment paper on a baking tray.
– Now knead dough again briefly and divide in 3 parts which you roll to 3 rolls of 65cm (25 inches) length.
– Make a braid out of the 3 dough rolls and place it on the baking tray.
– Gently press the cardboard rolls at 3 spots into the dough. Best place is at the ends of the braid.
– Let dough rise again (place the whole tray into a clean plastic bag and knot it or cover it with a moist kitchen cloth) for about 30 min. Volume needs to be visibly more.
– Pre-heat oven to 180 c or 360 F.
– Beat 1 egg and add 1 tbsp milk, mix well. Spread with a brush evenly over the wreath.
– Bake for 30 minutes until it shows a golden color.
– Place the wreath on a cooling rack (use a cake shovel), take out the 3 rolls and replace them with 3 hard boiled and colored eggs.
---