These German Apple Tartlets are a classic and ideal for a nice cake buffet or perfect when the apple season has started. This is an original German recipe and it's perfect for baking beginners. Happy Baking!
Ingredients German Apple Tartlets
For the Shortcrust Dough (Mürbeteig)
200 g flour
1 tsp (flat) baking powder,
100 g butter
1 egg
50 g sugar, 1 dash salt
1 package vanilla sugar – 0.5oz – How to Make Vanilla Sugar –
For the Filling
100 g raw marzipan for baking
1 egg yolk
1 tbsp almond liquor or natural almond flavor
100 g apricot jam
3 medium size apples
6 tartlet forms, diameter 4 inches with removable bottom part
some butter for greasing the forms, and some flour
plastic foil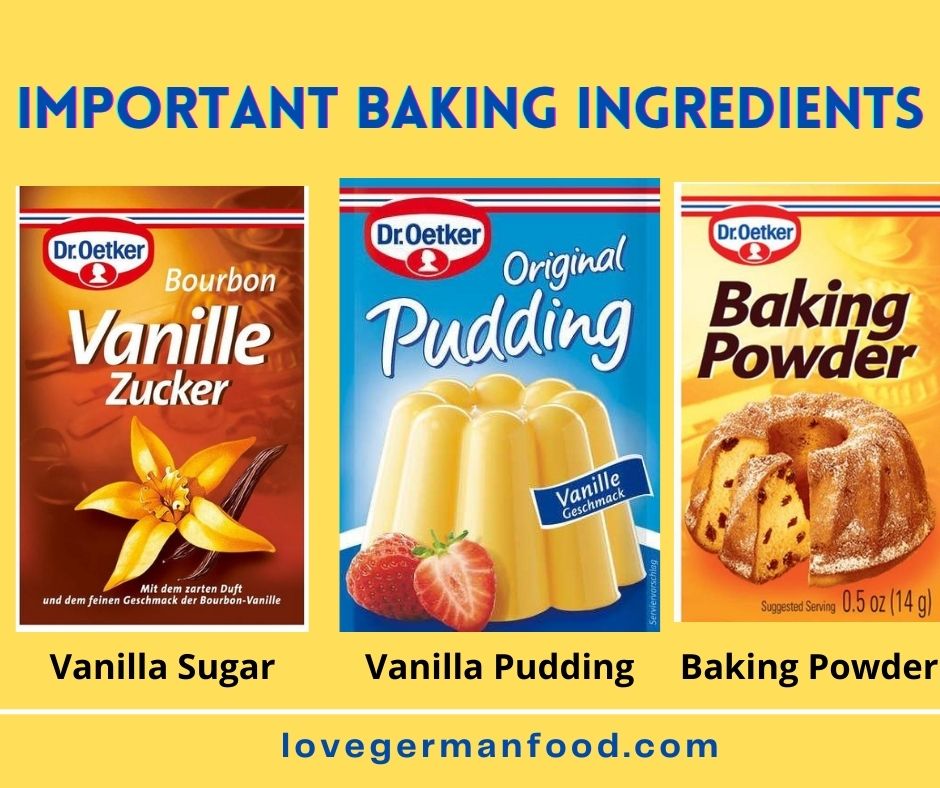 Baking Instructions German Apple Tartlets
Make the Shortcrust Dough
– Combine flour, butter, egg, sugar, salt vanilla sugar and baking powder on a baking board or smooth surface.
– Knead until you get a smooth dough.
– Form a ball and wrap in plastic foil.
– Let sit in fridge for 1 hour.
– Roll the dough on a baking board or smooth surface that is sprinkled with flour.
– Cut out 4 circles of diameter 5-6 inches. Use remaining dough and roll again to get 2 more circles.
– Grease the tartlet forms.
– Place in each form a dough circle. Press it gently into the form and around the rim.
– With a fork poke the bottom several times.
– Place tartlets in fridge for 30 min.
---
Kathi Baking Mix for  Streusel Cake – Works well for these Tartlets

---
Make the Filling
– Pre-heat oven to 350 F.
– Combine marzipan with egg yolk and liquor/flavor and mix until smooth.
– Spread the paste on the bottom of each tart.
– Peel apples, remove cores, cut in quarters, then in thin slices.
– Place the slices like a fan on dough.
– Bake for 20 min.
– Warm apricot jam on low heat and press through a sieve.
– Increase temperature to 430 F.
– Remove tartlets from oven.
– Spread the jam over the apples and bake for 3-4 min.
– Let cool off, then release from forms.
---