In summer we published the recipe for a strawberry biscuit roll, and today it is the recipe for a German Cherry Biscuit roll. It's a cake perfectly for fall and the holidays. For making the roll it's good to have some baking experience.
The recipe is quite simple and is not asking for special ingredients except the gelatin sheets. They can be substituted with gelatin powder, see the details in the recipe.
Sour cherries are available at Trader Joe's and Aldi, the rest can be found on Amazon and local super markets. Tis delicious roll makes a crowning dessert as part of a festive menu. Happy Baking!
Ingredients German Cherry Biscuit Roll
(makes 12 pieces, 2 rolls)
5 eggs
175 g sugar
50 g flour
50 g corn starch, organic
2 tbsp cocoa, unsweetened
1 tsp baking powder, Dr Oetker
1 jar sour cherries, 720ml
5 sheets white gelatin – see details below
150 g white baking chocolate
400 ml heavy cream
powdered sugar
chocolate decoration such as chocolate curls or sprinkles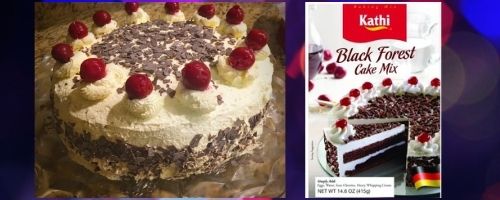 Baking Instructions
Make the Biscuit
– Using the double boiler method beat 3 eggs with 300 g sugar until sugar has dissolved. Remove from heat, and continue beating until you get a firm white cream.
– Combine with flour, starch, cocoa and baking powder.
– Place some water on the baking tray evenly over the tray.
– Layer the baking tray (size: 32 x 38cm or 14 x 10 inches ) with parchment paper. Spread cream on the paper and bake in pre-heated oven on 225 C (400F) for 6-8 min (second lowest level in the oven).
– Moisten a clean kitchen cloth. When biscuit is done place on kitchen cloth, moisten paper and remove it. Place another moist kitchen cloth on top, let cool off.
Make the White Chocolate Cream
– Drain cherries. Keep the water.
– Soak gelatin in cold water.
NOTE: 1 (0.25 oz.) envelope granulated gelatin = 1 tablespoon powdered gelatin = 3-4 sheets gelatin
– Find German gelatin sheets here – 
– Chop white chocolate, melt in double boiler.
– Add 2 eggs and 75 g sugar, then mix until sugar has dissolved.
– Remove from heat.
– Continue beating until you get a firm white cream.
– Heat cherry water, press any water out of soaked gelatin, add gelatin to cherry water.
– Combine with the chocolate cream.
– Beat heavy cream until firm, fold into cream.
Make the Roll
– Cut biscuit sheet horizontally in 2 parts.
– Spread half of the cream on one part, other half on the other biscuit layer.
– Make a roll out of each one.
– Roll into a kitchen cloth and let sit in the fridge for 3 hours.
– Cut each roll into 6 pieces, dust with powdered sugar and decorate with chocolate rolls.
TIPS:
Prevent breakage by sprinkling sugar on a kitchen cloth and place the biscuit layer on top.
You also can use a baking ring or frame.
---