The German cake "Granatsplitter" or in English "Chocolate Mountain" is a typical cake specialty, or you could also call it a pastry.
So what is is exactly?
In the bakeries it is made out of the left overs from cakes and  a so called "Tortenboden" (layered cake biscuit). The cake left overs are mixed with a buttery cream, rum and almonds and mounted on a shortcrust cookie bottom piece up to a height of 10cm or 4 inches, so it's shape reminds of a little mountain.
This little mountain will be completely covered with chocolate. Because the ingredients can vary the Granatsplitter is always different and this makes it so unusual. You can be very creative and use all kinds of ingredients.
In Berlin they call them "Hackstockkratze", in the Eastern regions it is a "Punschberg" (because of the rum). For the glaze you can use dark, medium or even white chocolate. To make the dough you can use all kinds of cake rests like from a coffee cake, cookies that are left over or a biscuit base cake. The recipe below is original and authentic German. Happy Baking!
Ingredients German Cake Granatsplitter
– Makes 8 Granatsplitter –
Dough
1/2 biscuit base cake (Tortenboden) – Already made or make from scratch (500-600 g)
You can use the recipe for an Obstkuchen (fruit cake) – Find it here – 
some baking flavor: rum or vanilla (or Whisky, brandy, Amaretto etc)
75 g almonds chopped coarsely (or hazelnuts, walnuts)

Shortcrust cookies
150 g flour
1 tbsp baking powder
50 g sugar
1 package vanilla sugar 0.3 oz – How to make Vanilla Sugar –
rum flavor
2 tbsp milk
50 g butter
Butter Cream
500 ml milk
100 g sugar
250 g butter
1 package Vanilla pudding or Cream pudding, Dr Oetker
Glaze
150 g chocolate glaze or "Kuvertüre" (if you cannot get the Kuvertüre just melt 1 bar of dark chocolate like from Lindt using the double boiler method, add 1 tbsp of coconut oil and let it melt)
---
The German Breakfast Box comes with these Items!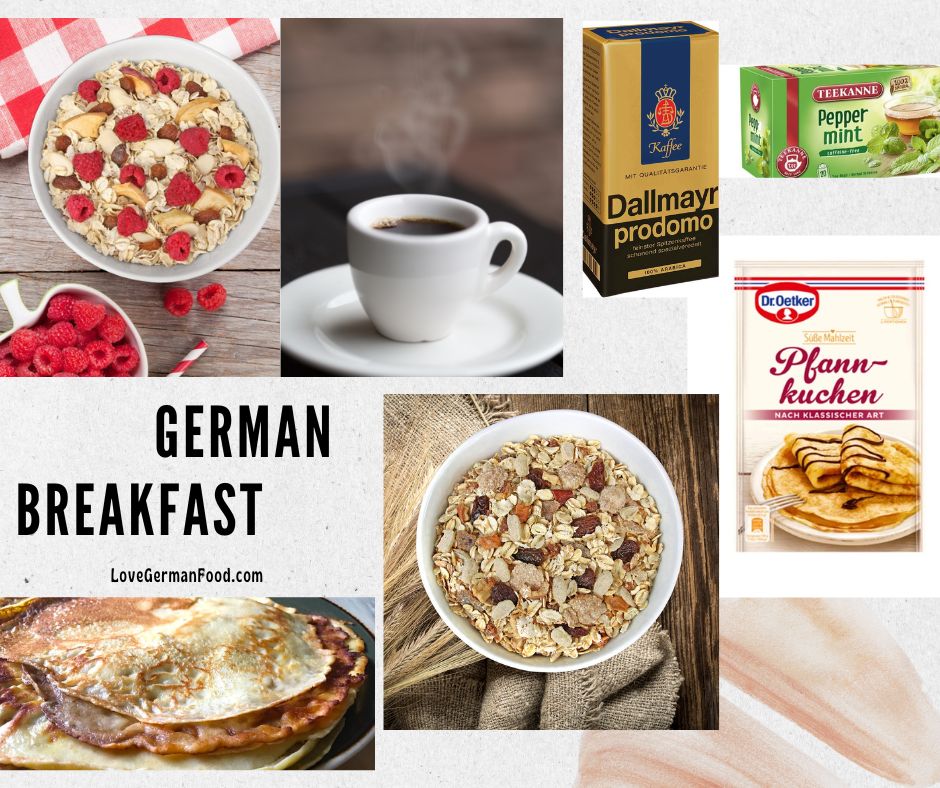 ---
Baking Instructions German Cake Granatsplitter
Make the Cookies
– Mix flour with baking powder, and sieve it on a baking board.
– Make a mold into the flour, into this mold add sugar, vanilla sugar, rum and milk, mix with some flour.
– Add cold butter that is cut in smaller pieces.
– Knead until you get a smooth dough.
– On a floured baking board or smooth surface roll the dough very thin.
– Cut out round cookies (diameter 4-5 cm or 2 inches).
Optional: If you have left over dough, you can create fantasy forms which will be used for the topping.
– Bake cookies and fantasy forms for 10 minutes on 180 C or 350 F.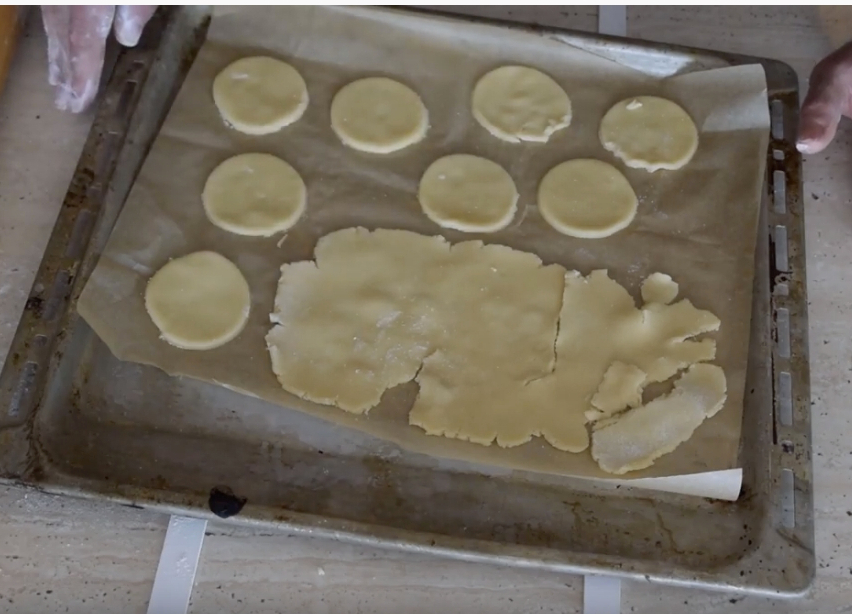 Make the Butter Cream
– Make the pudding per instructions
– Place plastic foil on top to avoid skin build up.
– Let cool off completely.
– When pudding is cooled off beat briefly, then add the butter.
– Mix well until you get a smooth cream.
Make the Dough
– Crumble the cake that you will use, you need very small pieces.
– Combine crumbles with butter cream, not in one time, bit by bit.
– Add rum flavor and chopped almonds.
– If you use the left over cookie dough, cut it in very small pieces and add to the dough. It adds some crunch to the Granatsplitter.
– Knead well until you get a dough that can be formed with the hands.
– Place in fridge for 10-15 min.
Make the Mountains and Glaze
– With a spoon remove some dough, place it on the cookie and form it into a little mountain.
– Place in fridge for 1 hour.
– Melt chocolate with some coconut oil by using the  double boiler method.
– Pour chocolate over the mountain, use a BBQ fork or a spatula that has holes (see video). If you try to dip the mountain into the chocolate it might fall from the cookie.
– Place on parchment paper and let dry.
---
The video below is in German, but you can follow it quite easily. She shows 2 variations to create the little mountain:
Use a frosting bag or place with hand a small portion of the dough on the cookie and form the mountain.
---