The German Bienenstich, or Bee sting cake in English, is a traditional German cake and can be found in almost every German bakery. The name means literally "Bee Sting cake". There is a legend where the baker who baked the cake had been stung by a bee because the sweet top layer of the cake attracted too many bees. The topping of this cake consists of a layer if caramelized honey almonds.
You may ask: Why is this a fast version?
Because this proven German recipe is not using a yeast dough and no honey. There is another way to make the dough by using yeast – – Go to the Recipe –  Happy Baking!
Ingredients German Bienenstich
4 eggs, separated
80 g sugar – 2.8oz
100 g flour – 3.5oz
20 g corn starch – 0.7oz
1 tbsp baking powder (not baking soda)
Filling and Topping:
100-200 ml heavy cream – 6.7 fl oz (200 ml makes the filling very rich)
1 package Dr. Oetker vanilla pudding – How to make vanilla pudding –
250 g sliced almonds – 8.8oz
Baking Instructions German Bienenstich
– Beat egg white until very firm (add a dash salt).
– Beat egg yolks with sugar until foamy, mix flour with baking powder and starch, add it to egg yolks. Mix well.
– Carefully fold in firm egg whites with a spatula.
– Grease a form diameter 22-24 cm (or layer it with parchment paper), then fill dough into the form.
– Sprinkle sliced almonds on top (this is the topping)
---
.
---
Filling
– Bake in pre-heated oven for 20 minutes on 180 C or 350 F.
– Meanwhile beat heavy cream until firm.
– For the filling make pudding per instructions, let cool off  a bit (place plastic foil on top so no skin would build). Mix it with the heavy cream. Keep cool.
– Take the cake and place it on a baking rack,
– Remove parchment paper, turn it around and let cool off.
– Cut cake in half (horizontal) and spread a layer of the filling on the lower half (the cream is in the middle).
– Keep cake cool until you serve it.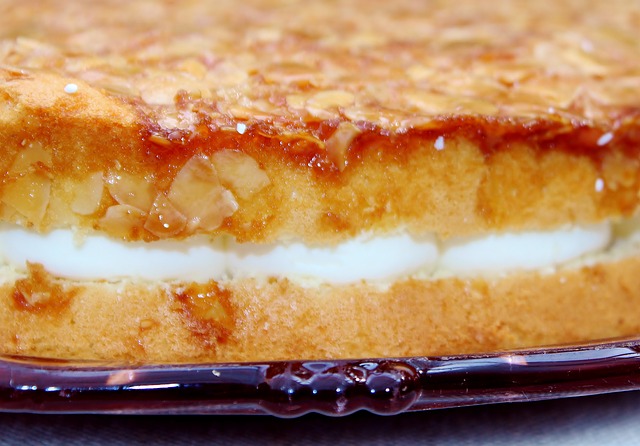 Note: The German recipe is using "paradise cream" from Dr Oetker instead of Pudding.