The German Apple cake with quark filling is per my husband "the best cake that you ever made". For the quark filling I used a mix of sour cream and cream cheese (50% of each). And it tastes great! This apple cake is a great cake for every occasion. For the cream cheese you could use use Philadelphia regular or the fat reduced version. There is of course always the possibility to make quark from scratch. Find more info here:  How to Make Quark – CHECK OUT THIS ARTICLE – Happy Baking!
Ingredients Apple Cake with Quark Filling
250 g flour
125 g sugar
1 package vanilla sugar Dr. Oetker, 0.3oz – How to Make Vanilla Sugar –
125 g butter
Filling
500 g apples (3-4)
150 g butter or margarine
125 g sugar
2 eggs
500 g quark or half sour cream and cream cheese
– Click here to find out How to make Quark –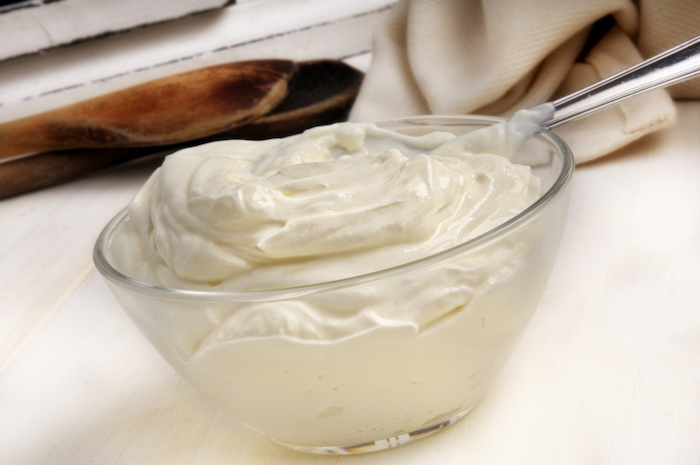 1 package vanilla pudding Dr. Oetker or 70g corn starch and vanilla extract to taste
butter and flour for the form
Mix of 1 tbsp powdered sugar and 1 tbsp sugar and cinnamon
Baking Instructions Apple Cake with Quark Filling
– Mix the first 4 ingredients until you have a crumbly dough.
–  Place 2/3 of the crumble dough into a greased and floured spring form (10 inches).
– Gently press the dough on the bottom and 1 inch high along the rim.
– Peel apples, remove core then slice them. Place them on the dough.
– Sprinkle with the cinnamon-sugar mix.
– Mix butter, sugar, eggs, quark and pudding powder or starch with a hand mixer until smooth, then pour over the apples.
– Crumble remaining dough on top and sprinkle with the sugar-cinnamon mix (optional)./
– Bake in pre-heated oven on 380F for at least 45 minutes – do the test by sticking in a knife or fork. Is there no dough sticking on the knife the cake is done.